Personality
De Blasio-era policies Adams has tossed in the compost bin
From the Internet Master Plan to Gifted & Talented, there have been a number of policy changes from the previous administration.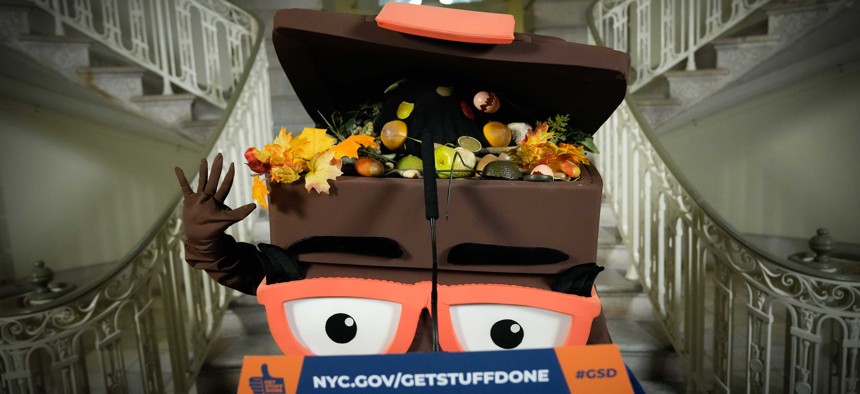 The transition from one administration to the next can seem like whiplash to voters and those around the government. Priorities change, programs are created or killed, new political appointees take on their roles and sometimes the W keys go missing on the office computers. In electing New York City Mayor Eric Adams, voters sent a message that they wanted to go in a new direction after Bill de Blasio's administration. Here are some of the de Blasio-era programs that Adams has thrown out, changed or brought back.
SCRAPPED
Internet Master Plan
Eric Adams has called himself a "tech geek" and told New Yorkers to not be "afraid" of new technology. But when it comes to expanding broadband internet access, he ditched Bill de Blasio's plan in favor of his own Big Apple Connect plan.
School safety agents
In 2020, de Blasio proposed shifting 5,000 school safety agents from under the NYPD to being overseen by the city Education Department. However, six months before leaving office, little progress had been made on the idea and Adams wasn't onboard with the change.
Vaccine mandate
De Blasio put a COVID-19 vaccine mandate into effect for all city workers starting Nov. 1, 2021. A lot had changed with the pandemic by the time Adams rescinded the mandate starting Feb. 10, 2023, via executive order.
Gifted & Talented
With three months left in his tenure, de Blasio proposed phasing out the city's Gifted & Talented program. Adams opposed the idea on the campaign trail and has since expanded the program.
MODIFIED
Universal 3-K
Universal preschool for three-year-olds, was previously said to not be a goal of the Adams administration, and then at the end of 2022, Adams cut a 6,000-seat increase for the program that had been planned for this year. It had been a priority for de Blasio going back to 2017.
Mayor's Office to Protect Tenants
The Real Deal recently reported that the office hasn't had a director for a year and is slated to have zero employees after being started by de Blasio in 2019. The outlet reported that the office's functions sometimes duplicated the work of other city agencies.
Composting
Fits and starts might be the best way to describe progress on composting after then-Mayor Mike Bloomberg wanted it to be mandatory. For Adams' part, he paused a Queens pilot composting program in December and then proposed a plan in January to bring it to all five boroughs by October 2024.
REVIVED
Anti-crime unit
De Blasio and his then-NYPD Commissioner Dermot Shea got rid of the department's plainclothes anti-crime unit in 2020 because the officers were accused of a disproportionate number of complaints and shootings. Adams brought them back in 2022 with a focus on gun violence, but the unit started out making a lot of low-level arrests.