Policy
A 'missed opportunity' in using data for New York City social services, report says
A new analysis by the Center for an Urban Future includes recommendations for how the city can leverage data to improve on social services delivery.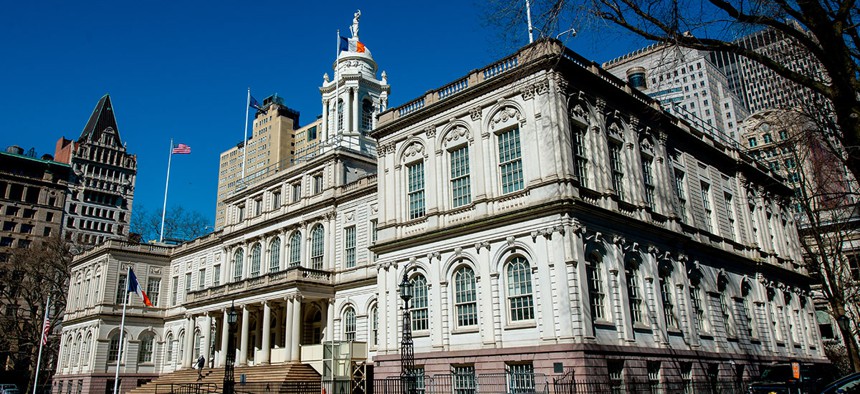 In a city facing a shortage of employees and an uncertain fiscal future, how can leaders confront challenges in addressing swelling social issues like homelessless and mental health? One answer, a new report suggests, might lie in data. 
A new report shared first with City & State by the Center for an Urban Future, a think tank focused on inequality and economic opportunity, outlines recommendations for how New York City can better use data collected by city agencies and data analytics tools to improve social services delivery. "At the city level, we've certainly seen how in some areas, data tools have been deployed effectively. They are being used already in smart cities technologies, they've been applied to things like traffic signaling, like managing energy grids," said Eli Dvorkin, editorial and policy director at the Center for an Urban Future, and author of the new report. "But one really important area where we haven't seen anything close to the full potential of data to make systems more effective and efficient is around human services."
Tackling a dynamic issue like homelessness requires comprehensive, accurate population-level data that is as close to real-time as possible and regularly updated, said Rosanne Haggerty, president of Community Solutions, a nonprofit working to end homelessness. The city's own system for reporting the number of people in homeless shelters produces an incomplete count, prompting the news outlet City Limits to step in to report a more comprehensive census. (As of Nov. 15, the Department of Homeless Services nightly shelter population was 65,591.)
New York City Mayor Eric Adams came into office with ambitious ideas about how to make government agencies run more efficiently, and appointed a chief efficiency officer to oversee some of that work. He also ordered a reorganization of the city's technology and IT agencies and offices under a new umbrella agency called the Office of Technology and Innovation.
On the campaign trail, Adams showed an interest in revamping how data is used to measure the performance of city agencies, pitching a citywide version of CompStat, the police department's tool for tracking crime across the city. One of Adams' signature efficiency-related proposals in this area is a tool called MyCity, pitched as a one-stop digital portal for New Yorkers to apply for and access city services and benefits. Gotham Gazette reported this summer that the MyCity portal, which is being developed under OTI, was set to debut in a first phase late this year, initially rolling out a unified application for all subsidized child care programs from the city. Though the year is winding down, Ray Legendre, a spokesperson for OTI, told City & State this week that the launch of the child care subsidy portal is still on track for before the end of the year.
Despite the Adams administration's interest in making government more efficient, the Center for an Urban Future's report suggests that there is a lot of room for growth in how the city collects, uses and shares data, particularly when it comes to social services. 
A key issue is data sharing and standardization between agencies. For individuals who have multiple points of interaction with city agencies – a family experiencing homelessness with children in the public school system, for example – data silos can mean additional red tape and confusion.
The report suggested that APIs – tools that allow computer programs to talk to each other – could be used to link existing agency data systems to communicate and share information, rather than undertaking a massive restructuring of the city's data systems. Some of that work is already underway, Legendre said. "We are using APIs to send data between city agencies and view MyCity as a digital one-stop shop for New Yorkers to easily access essential city services and benefits," he wrote in an emailed comment. 
Andrew Rasiej, co-founder of Civic Hall, said that APIs are a great first step, but that the holy grail is a data standardization policy that could be used not only by city agencies, but also nonprofits and other institutions to better deliver social services. "It's about transforming the way information flows between agencies and then flows to the public," Rasiej said. "That requires significant infrastructure around the standardization of data, so that different sets of data can talk to other sets of data."
Recommendations in the report, which solicited input from several unnamed City Hall officials, included a digital wallet that could be used to store vital documents that New Yorkers use to apply for services and benefits with different agencies – rather than going through the hassle of locating and presenting those documents with each new agency interaction. "We're continuing to assess digital wallets and believe they are a critical tool to help make important benefits more attainable," Legendre wrote over email.
The good news, the report suggests, is that the city has a number of pilot programs in the works that use some of these principles already. The Mayor's Office for Economic Opportunity helped to create a digital wallet of sorts for New Yorkers to store and share personal documents with the Department of Homeless Services. The Department of Social Services already operates an online portal called ACCESS HRA, where people can apply for multiple benefits programs, including food assistance and reduced-fare MetroCards. And the report notes that a collaboration between the Administration for Children's Services and DHS can securely alert caseworkers when a young adult who was in foster care moves into the shelter system.
But there are some significant barriers that help explain why we don't already see more wide scale data sharing and more innovative uses of data. In addition to existing silos, legal frameworks are needed to allow for some of that sharing, and privacy will always be of concern to New Yorkers when it comes to sharing personal data. "In order to replicate and scale up the data tools that are working to tackle social services challenges, the Adams administration will need to develop innovative strategies to protect New Yorkers' privacy while establishing ethical, consistent, and scalable data sharing frameworks," the report notes. 
User-centric design is crucial for any platforms that New Yorkers actually interact with. Involving would-be users in testing could help prevent some of the glitches that have plagued digital tools like vaccine sign-up websites. Dvorkin also said that a robust technology workforce – something the city is in need of – is key to implementing new approaches to using data.
Out of all of the report's recommendations, one is relatively basic but could nonetheless make a positive impact. Dvorkin said the creation of an online universal service catalog – where New Yorkers could see the breadth of services offered by the city and which they might be eligible for – could go a long way towards making those services more accessible. "That's one of the lower-hanging fruits," he said. "And I think it's an essential prerequisite for being able to implement some of these other changes."