Campaigns & Elections
Here are the New York Democratic lawmakers facing 2022 primary challenges
The left is once again coming after incumbent members of the state Senate and Assembly.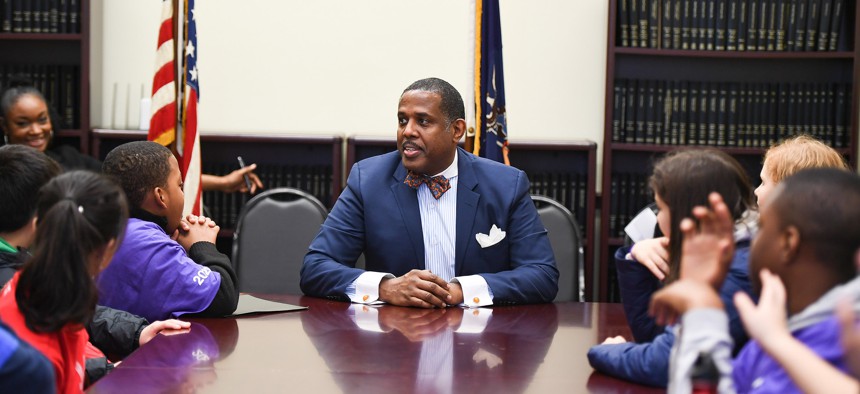 The June 2022 primaries are many months away, but any wannabe insurgent Democratic candidates for the state Legislature have little time to waste in deciding whether or not to run. Campaign staff have to be hired. Fundraising operations need to get up and running. Waiting too long on making an announcement could encourage other people to get into a race. Such thinking has already driven a few people to declare their candidacy against sitting members of the state Senate and Assembly.
City & State has identified several Democratic legislators who already face primary challenges next year. That number is all but certain to grow in the coming weeks as the political left gets ready to expand on its electoral success in recent years at the expense of the political establishment. Insurgent candidates' ultimate success, however, will depend on the ongoing redistricting process for legislative districts, which is set to conclude early next year.
Here is a rundown of incumbent Democratic state lawmakers facing 2022 primary challenges as of Friday, Oct. 15.
State Sen. Brian Kavanagh
First elected: 2017
District: Parts of lower Manhattan and the Brooklyn waterfront
Reported cash on hand: $23,453
Challenger: Alana Sivin
Kavanagh is facing a primary challenge from socialist attorney Alana Sivin. She is attacking Kavanagh for being too moderate on issues including bail reform and increasing taxes on the wealthy. The state Senate Housing Committee chair has defended himself by pointing to accomplishments like his role in enacting a statewide eviction moratorium and a rental relief program. Sivin is pursuing the endorsement of the New York City chapter of the Democratic Socialists of America. Illapa Sairitupac, a mental health social worker, is also thinking about jumping in the race.
State Sen. Kevin Parker
First elected: 2002
District: Parts of Park Slope and Flatbush in Brooklyn.
Reported cash on hand: $43,291
Challengers: David Alexis, Samantha Adler
For-hire vehicle driver organizer David Alexis is the latest democratic socialist to believe that he can topple Parker. The political left has criticized the chair of the state Senate Committee on Energy and Telecommunications for taking too many political donations from fossil fuel interests, but he has also been a champion of their favorite carbon tax proposal. Alexis could theoretically win by appealing to the left and fellow West Indian immigrants like himself, but Parker showed last year how he can move fast in beating back a primary challenge. Samantha Adler, a program manager at the nonprofit New York Peace Institute, is also getting into the race. 
State Sen. Luis Sepúlveda
First elected: 2018
District: Parts of the South Bronx, Parkchester, and Hunts Point
Reported cash on hand: $11,572
Challengers: Ian Harris
Prosecutors have dropped domestic charges against the incumbent legislator, but his political problems are hardly over following his lackluster performance in the Democratic primary this year for Bronx borough president. Methodist preacher Ian Harris might benefit as he campaigns on a platform that includes support for free college and increased funding for public housing and local schools. 
Assembly Member Michael Benedetto
First elected: 2004
District: Pelham Bay and other parts of the Bronx
Reported cash on hand: $41,338
Challenger: Matthew Cruz
The changing demographics of the Bronx could help the right candidate oust the longtime Education Committee chair. Community Board 10 District Manager Matthew Cruz has longtime ties to the district, but his policy positions remain unclear. He recently got some press attention as one of several community board leaders who pushed hard to keep local meetings on Zoom despite the legal risks.
Assembly Member Erik Dilan
First elected: 2014
District: Parts of North Brooklyn including Bushwick and Cypress Hills
Reported cash on hand: $52,901
Challenger: Samy Nemir-Olivares
Dilan almost got primaried by an opponent backed by the Democratic Socialists of America in 2020, but Boris Santos ended up dropping out of the race in February. This cycle, Samy Nemir-Olivares will be hoping to unseat Dilan with a challenge from the left. Dilan's father, Martin Malavé Dilan, was unseated from the state Senate in 2018 by DSA-backed state Sen. Julia Salazar, so many progressives see the 54th Assembly District, which includes much of Salazar's district, as a pick-up opportunity for the nascent socialist caucus in Albany. Nemir-Olivares is a Democratic district leader for the neighboring 53rd Assembly District and a queer, LGBTQ activist who works at Lambda Legal. He seems likely to be endorsed by NYC-DSA. But Dilan has deep roots in the community, having served in the City Council for 12 years before winning the Assembly seat.
Assembly Member John McDonald III
First elected: 2012
District: Parts of Albany, Troy and Cohoes in the Capital Region
Reported cash on hand: $72,529
Challenger: Sam Fein
County Legislator Sam Fein has once again announced a primary challenge against the pharmacist legislator McDonald, who beat him by double digits in the Democratic primary last year. Voters might think differently this time around on issues like single payer health care, especially if the Working Families Party endorses Fein again. And if Fein loses in the primary, he can always try his luck in the general election again despite the risk of coming in third behind the conservative.
Assembly Member Cathy Nolan
First elected: 1984
District: Long Island City and parts of Astoria and central Queens.
Reported cash on hand: $9,710
Challenger: Mary Jobaida
There was a time – not that long ago really – when the longtime Western Queens legislator was the person taking on the powerful Democratic establishment. Those days are gone now with Nolan facing another competitive primary. Activist Mary Jobaida announced over the summer that she will challenge Nolan again next June after coming in second in the 2020 Democratic primary for the same seat. The Bangladeshi immigrant's progressive platform might take her further in the current race if she can avoid splitting anti-incumbent sentiments among primary voters. Nolan has had some health issues over the past year, and reportedly has considered retiring at the end of her term. Her office did not immediately respond to a request for comment. Whether or not Nolan runs for reelection, other candidates may jump into the race too, like term-limited New York City Council Member Jimmy Van Bramer, who's looking at his options. 
Assembly Member José Rivera
First elected: 2000, after a previous stint in the Assembly
District: Parts of the western Bronx including Arthur Avenue.
Reported cash on hand: $70,788
Challenger: Shanequa Charles
The 20-year veteran of the Assembly won his last primary in a landslide, but Shanequa Charles is hoping she has better luck on a platform that includes support for making public transit free. Rivera is no stranger to politics, but he might not be able to count on Democratic leaders to save him this time considering all that trouble he got into last December for recording and releasing footage from the Democratic conference's secretive meetings. 
This article has been corrected to reflect the results of the 2020 primary in Assembly District 37. 
With additional reporting by Jeff Coltin