Campaign Confidential
City Council speaker candidates know what they want to fix
And more coverage of New York elections.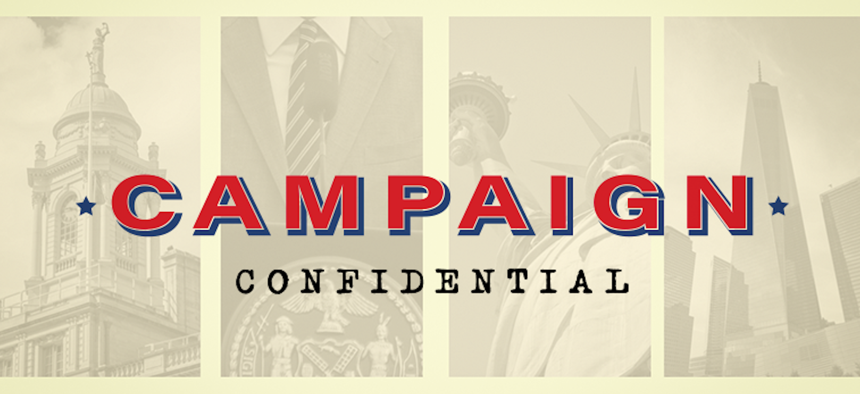 The 2021 election cycle is (very nearly) over, and this will be the final edition of Campaign Confidential. It's been an incredible run – 53 newsletters over the past 13 months – and I can't thank you enough for reading, talking about it and tweeting funny stuff. I'll still be covering City Hall for City & State, so keep those tips coming to JColtin@CityandStateNY.com or DM @JCColtin about the Adams administration, the City Council and who's going to run against who in 2023. – Jeff Coltin
The end of the Corey era
Most elections are a reaction to the previous candidate, and Corey Johnson's shadow has been looming over this year's speaker race, as leading candidates feel free to criticize his tenure. Asked at a November forum hosted by the New York Working Families Party and other progressive groups about how he would be different from the current speaker, Council Member Francisco Moya laid in. "The City Council's (bill) drafting process is broken. There is a lack of transparency for council members on how legislation is being written, and how their legislation is actually being negotiated," he said. "We have to be able to give members the right to receive early drafts of bills before we make decisions on what we're voting on. It's really important that we are providing a very clear, transparent process on how members put in their bills to get drafted."
Council Member Adrienne Adams, who along with Moya has become a final contender to be the next speaker, has raised the same issues as her competitor. City & State asked in November, what would she change from the Johnson era? "Most definitely deal with the way that we process legislation. And that bottleneck that is called first-in-time. All of it would center around our processes of legislation and moving things a lot better than we happen to move them these days." Read more about Corey Johnson's reflections on his time as speaker.
By the Numbers
Many people are wondering: When will this damn City Council speaker race be over? History tells us we could have it much worse. While the sample size is small, we've never really known who the speaker would be this early. Peter Vallone Sr. seemed like a sure thing for months, but it took a last-second defection on the day of the vote to overcome would-be speaker Samuel Horwitz. Gifford Miller, too, looked strong, but didn't really lock it up until a couple days before the vote. And Christine Quinn didn't emerge victorious over Bill de Blasio until after New Year's The two most recent speakers moved up the timeline. Melissa Mark-Viverito declared victory on Dec. 18 – but then again, Daniel Garodnick didn't give up until the day of the vote. Corey Johnson secured his majority on Dec. 20, and he held on tight for two weeks until he was elected.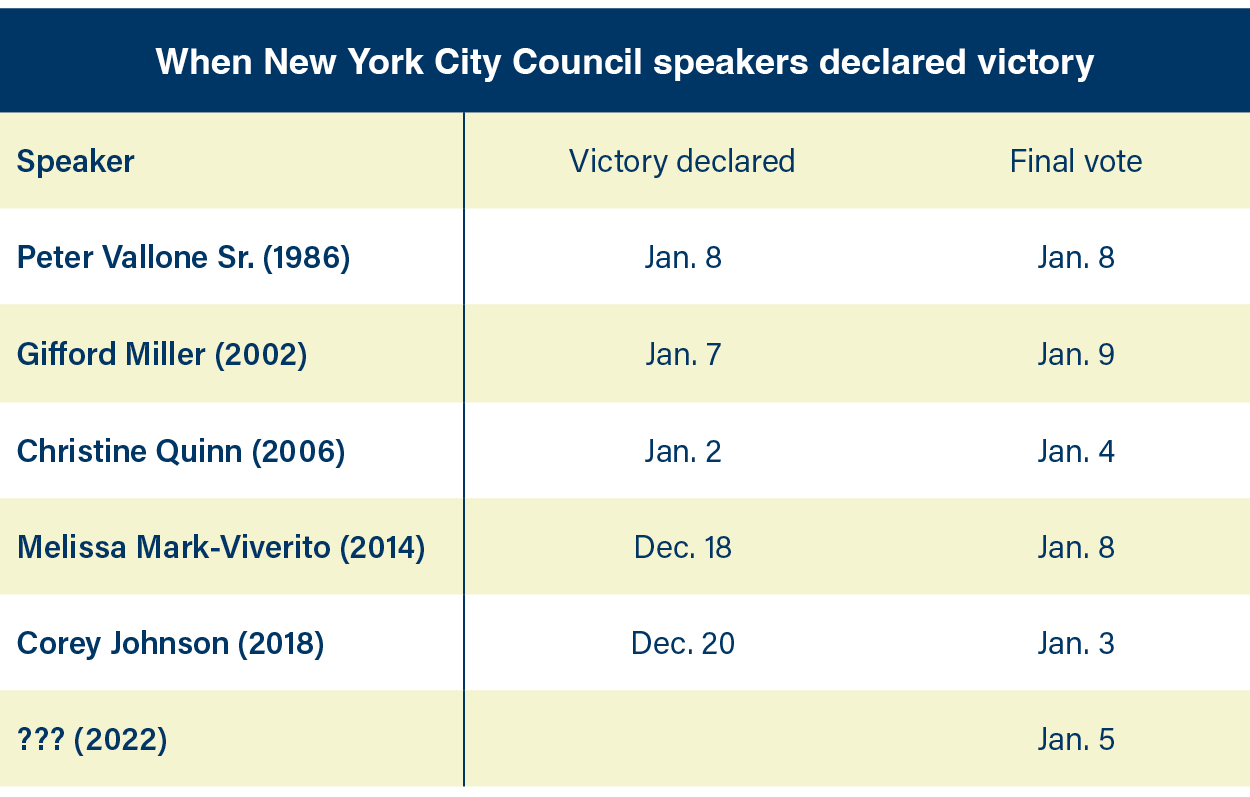 Member-driven? How naive! 
It wasn't that long ago that everyone was predicting a "member-driven" City Council speaker race, since county parties are weaker than ever, and Mayor-elect Eric Adams said he wouldn't put his "finger on the scale." Well, Adams is lending his weight to Francisco Moya's side, as is Rep. Adriano Espaillat. Labor Strong 2021, a coalition of unions including 32BJ SEIU and District Council 37, led the push for Adrienne Adams along with Queens Democratic Party boss Greg Meeks and Bronx Democratic Party leader Jamaal Bailey. Moya and Adams had individually built little-to-no support among incoming members and barely had a single pledged vote between them before last week. Now they're effectively the final two candidates. Some progressive members complained about the process with Moya, but Adams' path to victory wasn't very different. "We have been disenfranchised completely," a member griped Monday. "They have stripped us of our ability to choose." Then again, this week's stalemate had one member wishing there was an even stronger hand guiding them. "I miss Joe Crowley," they joked.
REBNY's AA rating
Adrienne Adams seems to be the Real Estate Board of New York's preferred speaker candidate. REBNY President James Whelan, Senior Vice President Reggie Thomas and Vice President Ryan Monell all donated to her campaign in September or October – long before she became one of the final speaker contenders. Whelan and Monell haven't given to any other speaker candidates, while Thomas also gave to Keith Powers earlier this year. REBNY spokesperson Sam Spokony wouldn't say whether Adams was the favorite, just that the next speaker should "support a strong and equitable economic recovery, create good jobs and increase the production of much-needed housing, including affordable housing." But it makes some sense they'd prefer Adams, who has appeared to pull her support of a bill based on REBNY's concerns, has supported building bigger in Jamaica, Queens, and backs basement apartments, over Francisco Moya, who has called for downzoning and lamented new apartments in his neighborhood, while criticizing some upzoning proposals like in Flushing and Inwood. But let's not overstate it – real estate wouldn't lose with Moya either. Eric Adams likes him, and the Commercial Observer reported the real estate industry broadly likes him too. And Moya's endorsements from carpenters and laborers unions aren't nearly the liability they once would have been to developers, now that REBNY and the trades are seeing eye to eye.
East Harlem: Assemble
Hopes for a unified special election day across four Assembly districts were dashed when Gov. Kathy Hochul called a Jan. 18 special election for the Assembly District 68 seat in East Harlem, vacated by acting Secretary of State Robert Rodriguez. Of course, the election will likely just be a formality, with the Democratic nominee getting picked by county committee members on Dec. 18, as Patch reported. Wilfredo Lopez, legislative director for outgoing City Council Member Ben Kallos, said he has Rodriguez's support. District Leader Eddie Gibbs has been campaigning hard. And District Leader Peggy Morales is said to have support from former City Council Speaker Melissa Mark-Viverito. Other candidates who might be whipping votes Saturday morning include former council candidate Tamika Mapp, District Leader John Ruiz, Community Board 11's Xavier Santiago and Dawn Sanders. Contenders met with Manhattan Democratic Party Chair Keith Wright on Monday, but unlike in other boroughs, the boss is just expected to referee a fair fight, rather than pick a winner.
Endorsement Watch
After Letitia James dropped out of the gubernatorial primary to run for reelection as attorney general, former AG candidates Zephyr Teachout, Daniel Goldman, Maria Vullo, state Sen. Shelley Mayer and Assembly Member Clyde Vanel dropped out and endorsed her … Gov. Kathy Hochul also endorsed James … Brooklyn Democratic Party leader Rodneyse Bichotte Hermelyn endorsed Hochul for governor … Eleanor's Legacy endorsed Hochul and James … former Ohio congressional candidate Nina Turner endorsed Jumaane Williams for governor … Former New York City Council Speaker Melissa Mark-Viverito endorsed Brittany Ramos DeBarros for the 11th Congressional District in Staten Island and Brooklyn … and some rare public endorsements are coming in the City Council speaker race, with Council Members-elect Shaun Abreu, Carmen De La Rosa and Christopher Marte and Council Member Oswald Feliz endorsing Francisco Moya, while former speaker candidates and Council Members Diana Ayala, Justin Brannan and Keith Powers and Council Member-elect Gale Brewer endorsed Adrienne Adams for speaker.
Staffing Up
Anthony Thomas has been consulting City Council Member Adrienne Adams on the speaker race … Josh Lafazan's campaign for the 3rd Congressional District on Long Island and Queens has hired Chase Serota as campaign manager, Tucker Green Consulting and Max Kramer as general consultants, GMMB for digital strategy, Mandate Media for email engagement, Adam Herbsman of Grand Central Consulting for strategic research and communications, and Neil Reiff as legal counsel … Chloe Chik is communications director for Huge Ma's run for Assembly District 37 in Queens.
Got tips? Email JColtin@CityandStateNY.com or send a DM to @JCColtin
District Data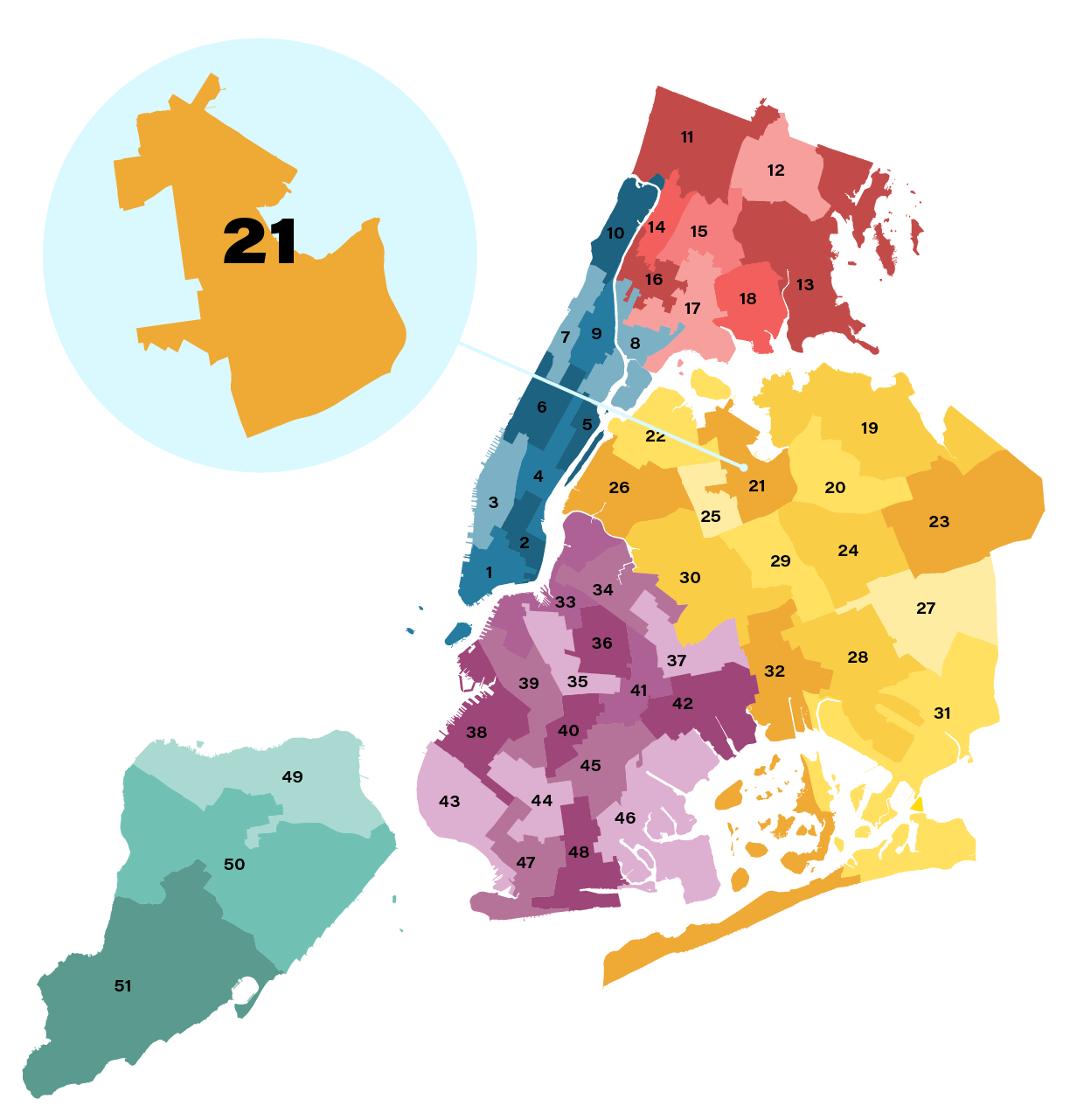 City Council District 21 in western Queens, covering neighborhoods including East Elmhurst, Corona and LaGuardia Airport
Current council member: Francisco Moya since 2018, who won reelection in November
2010 census demographics: 75.3% Hispanic, 12.6% Asian and Pacific Islander, 6.1% Black, 4.5% white
Housing: 75.4% renter-occupied, 24.6% owner-occupied
2017 primary election results: Moya: 55.1%, Hiram Monserrate: 44.3%
2021 primary election results: Moya: 51.6%, Ingrid Gomez: 18.2%, David Aiken: 16.3%, George Onuorah: 7%, Talea Wufka: 6.4%
What happened: Moya prevailed pretty darn easily in the primary, even as challenger Ingrid Gomez, a social worker, picked up big progressive endorsements, including from Comptroller-elect Brad Lander and Rep. Alexandria Ocasio-Cortez's Courage to Change PAC. But Moya could have had a much bigger fight if former speaker candidate Justin Brannan hadn't tried to win him over by passing a bill that barred notorious former state Sen. Hiram Monserrate from running again. (Of course, Moya hasn't had trouble defeating Monserrate before.) Even in the absence of an attention-grabbing primary, Moya didn't really travel the city to build goodwill by helping other candidates in their primaries like some of his speaker competitors did. In fact, he had somewhat dropped off the radar as a speaker candidate for much of the past two years, before declaring himself a contender this fall. If he saw an opening, he was right.
Twitter Posting 
If anything comes out of this entire telenovela at City Hall, it is that I feel stronger than ever, and against my better judgment, have grown fond of Twitter. The bochinche is real up in here.
Powered By
NEXT STORY: Corey Johnson's shadow looms over the speaker race