This Week's Headline
Adrienne Adams, Eric Adams and Hochul in the first week of 2022
Rounding up the week's political news.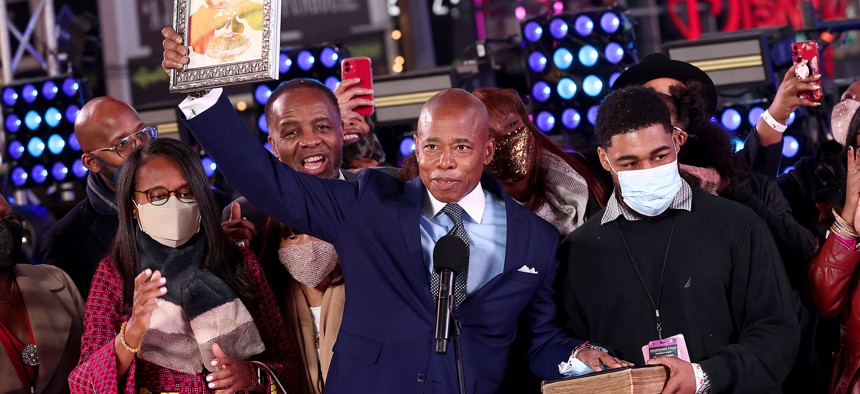 Happy New Year New Yorkers! The first week of the year may have just ended, but that doesn't mean that the news slowed down at all. There's a new New York City mayor, a new City Council speaker, a new state legislative session, the first state of the state delivered by a female governor and new proposed legislative lines. Even the very first minutes of 2022 were eventful as CNN New Year's Eve co-host Andy Cohen went on a drunken rant roasting newly ex-Mayor Bill de Blasio. So settle in with a nice hot cup of hot cocoa and catch up on the latest news.
Adams' first week
Eric Adams officially became the 110th mayor of New York City on Jan. 1, just minutes after the New Year's ball drop in Times Square. And he wasted no time getting right to work. On his very first day, Adams took the subway to his office – and reported a crime in progress to police along the way. Though long retired from the beat, his officer instincts don't seem to have gone away. Adams' first challenge emerged quickly as he grappled with the decision on whether to keep public schools open amid surging COVID-19 cases and hospitalizations, particularly among children. He said the city would not return to remote learning and defended his position as teachers protested for remote options and lawmakers urged him to at least temporarily go virtual. Adams then appeared alongside Gov. Kathy Hochul to announce new efforts to address both crime and homelessness in the city's subways, an early indication that the animosity that colored the previous governor and mayor's relationship will have no place in the Adams administration. And in a further new development representing a shift from his predecessor, Adams greeted the city's first major snowfall with a 6:45 a.m. press conference at a Department of Sanitation facility. No more late morning starts for the City Hall press corps it seems.
Hochul's first State of the State
Hochul became the first woman to deliver a State of the State address in New York as she laid out her agenda for the year. Giving her speech in the Assembly chamber – a return to tradition and a change from her predecessor – Hochul highlighted a number of new initiatives, including a five-year, $25 billion dollar housing plan to build or preserve 100,000 affordable housing units, as well as 10,000 supportive housing units, a variety of proposals to address gun violence and a pledge to bring back cocktails to go, a prospect that may have garnered the most excitement. Overall, her policies and tone garnered praise from Democratic lawmakers, although some criticized her for not going far enough on progressive issues, such as allocating more resources to the Excluded Workers fund, or for excluding them altogether. Next comes her executive budget proposal, where her plans will take more concrete shape.
New York City's new Council speaker
Adrienne Adams was the other New York City Adams to make the news this week. After a contentious, largely behind-the-scenes fight for votes, Adams ultimately gained enough support among her fellow City Council members to become the body's next speaker. The outcome had been a foregone conclusion when she announced her winning coalition, but with the new year her position became official. Adams is the first Black lawmaker to hold the role of speaker, and follows in a line of female speakers after Christine Quinn and Melissa Mark-Viverito.
Charges dropped against Cuomo
In the latest instance of prosecutors seeking no criminal charges against the former governor, Albany District Attorney David Soares said he is dropping the groping case against Andrew Cuomo. The Albany case made it further than any other county investigation, with an actual complaint filed and judicial proceedings beginning. The groping allegation made by state staffer Brittany Commisso was the most egregious of the the sexual harrassment accounts, and the most likely to have resulted in criminal charges. But from the beginning, prosecution was viewed as unlikely since misdemeanors like the one Cuomo faced rarely went to court because they are hard to prove before a jury. With Soares' decision, Cuomo now is unlikely to face any criminal liability for his alleged sexual harassment, but still could end up in civil court.
One step closer to gerrymandering
The inaugural New York State Independent Redistricting Commission concluded its work without really concluding its work. Tasked with sending a set of bipartisan maps to lawmakers to approve, the commission once again found itself divided along party lines, with the five Democratic commissioners proposing and voting for one set, and the five Republicans another. Their contentious final meeting contained accusations about who was responsible for the devolution of negotiations, although commissioners still managed to find considerable common ground when it came to congressional district lines. Lawmakers must now vote on both sets of maps, but the lack of a cohesive, bipartisan plan from the commission increases the chances that Democrats in the state Legislature will simply scrap the proposals and draw their own lines. 
Powered By
NEXT STORY: Can Eric Adams really hire his brother?