New York State
How Kathy Hochul won her first legislative session
The governor checked off nearly all the goals from her January State of the State address.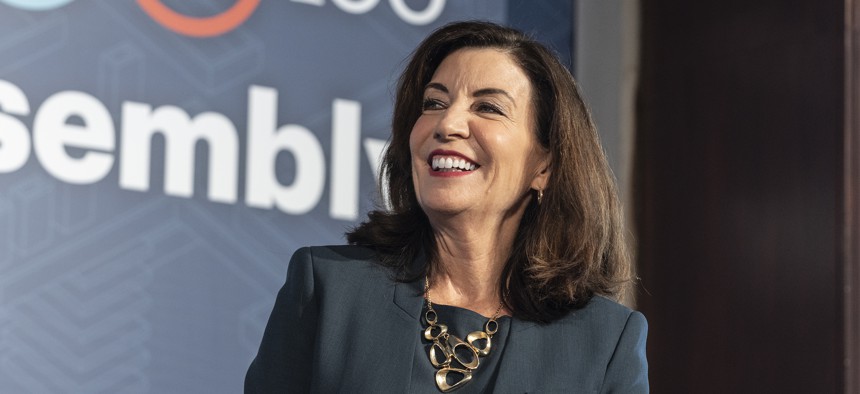 Six months ago, Gov. Kathy Hochul gave her first State of the State address, decked out in suffragette white to commemorate being the first female governor of New York. Six months after ascending amid her predecessor's scandals and resignation, Hochul laid out her vision for her first legislative session as governor. "What I am proposing is a whole new era for New York," she declared in her Jan. 5 speech. "The days of New Yorkers questioning whether their government is actually working for them are over."
The legislative year has now come to an end, and while it took some unexpected twists and turns along the way, Hochul emerged from it with a solid policy track record and an especially strong last few weeks that have left her well positioned for her upcoming June 28 primary. She suffered a few missteps that her opponents quickly targeted, and parts of her agenda never made it through. But thanks in no small part to her adaptability throughout the session in the face of unanticipated events, Hochul successfully wielded her new power as governor to create a well-rounded track record for her to run on.
At the beginning of the year, Hochul laid out a sweeping vision for the state with plans to usher in a new era of ethics and transparency, new action to combat climate change and criminal justice reform. Notably absent at the time was mention of rollbacks to bail reform, which she later negotiated into the budget to the ire of a number of lawmakers – including legislative leaders – and is one of her most significant accomplishments this year. In January, Hochul also promised far narrower action to combat gun violence than the package of bills strengthening the state's gun control measures that ended up dominating the last days of session. And she made no mention of abortion rights, and issue that went on to become central to her campaign messaging. 
Hochul made good on several promises from her State of the State, including replacing the state's current ethics watchdog agency and getting the Legislature to add an extra $1 billion to an environmental bond act going to the voters in November. But her biggest achievements came as a result of circumstances out of her control, like spiking crime rates renewing criticism of bail reform, a leaked U.S. Supreme Court decision overturning Roe v. Wade and a racist mass shooting in Buffalo. "She stepped into the moment," Democratic consultant and former state Democratic Party Executive Director Basil Smikle told City & State. "She took advantage of the opportunity that the platform and the pulpit provided her to marshal the resources of the state to try to fix problems and assuage the concerns of the voters." He called those moments a real "test of her leadership."
Notably absent from her speech was mention of rollbacks to bail reform, which she later negotiated into the budget to the ire of a number of lawmakers.
Hochul managed to score her first successes during the budget, when she not only oversaw a healthy fiscal situation free of deficits in the immediate future, but also got a series of rollbacks to bail reform approved despite opposition from both legislative leaders in the months leading up to a final deal. "She scored major victories on many issues that will be top of mind for voters in the primary: namely sensible gun laws and changes to bail reform," Jake Dilemani, a Democratic consultant with Mercury, said to City & State. Although she vehemently denied a direct connection between bail reform and rising crime rates – a consistent Republican talking point that available data does not support – she nonetheless responded to New Yorkers' fears around crime and desire to see additional changes to the 2019 reforms. Dilemani predicted that she would likely face criticism from opponents for not going far enough on public safety, something that Rep. Tom Suozzi, a primary challenger, has already done. But in her first debate, Hochul came prepared for such criticisms when a moderator asked whether she regretted her inability to directly give judges the ability to weigh the danger a defendant poses when setting bail. "Dangerousness is subjective," she offered. "I think what we gave judges is better than this vague term."
On the fiscal portion of the budget, Hochul again benefited from circumstances outside of her control, namely the influx of federal coronavirus cash sent to aid in pandemic recovery. "She was dealt a strong hand, she wasn't dealt a weak hand," Blair Horner, executive director of the government watchdog New York Public Interest Group, told City & State. "She had tons of money from the feds, so it's easier to cobble together a budget in times of plenty than in times of famine." The budget Hochul signed was the largest in state history and included significant new funding to expand childcare, for public universities and even set aside cash in the state's reserves.
The budget deal, however, also included one of her most controversial achievements: the billion dollar deal to build the Buffalo Bills a new stadium that Hochul announced to the surprise of lawmakers. The lack of transparency around that dealmaking process as well as the at least $850 million price tag for the state has already earned her significant criticism, including from most prominent editorial boards outside of Buffalo. "It is, quite simply, a bad deal – a giveaway that is generous even by the standards of recently constructed stadiums in other states," the Times Union wrote in one of several editorials denouncing the deal. Both Suozzi and New York City Public Advocate Jumaane Williams knocked Hochul for the deal during their first debate together, and her defenses were comparatively weaker than those she offered on public safety. 
But long-time lawmakers said that the tension the deal created in the Legislature was nothing new, nor was it lasting. "There's always something," Assembly Member Amy Paulin told City & state. "After 22 years, or 22 budgets, there's not a budget that goes by that the Legislature isn't upset with the governor for one reason or another." Paulin, who has served in the Assembly for over two decades, still called the Hochul administration the most accessible she's ever experienced and said that this past year was her most prolific ever session in terms of bills passed. 
Assembly Member Richard Gottfried, who is retiring this year after five decades in the Assembly, also said he passed the most bills he ever had this year and praised Hochul for having "the best working relationship with the Legislature that I've seen in my memory." This especially seemed to play to her benefit when she needed a change in the law to get her former lieutenant governor Brian Benjamin off the primary ballot and replace him with her new pick of Antonio Delgado, helping to smooth over the most politically tumultuous period during her short time as governor.
Still, Hochul certainly has not been a stranger to criticism during her first legislative session, with the Bills stadium deal serving as one of the more prominent examples. Activists on the left fault her for not doing enough on climate change and housing, while those on the right argue that she has failed to address crime rates in the state. And both sides have taken issue with her administration's transparency and ethics, particularly in the wake of Benjamin's arrest. But observers agree that Hochul has managed to navigate those turbulent waters, thanks in part to the spotlight shifting to new, higher-profile issues. 
She stepped into the moment. She took advantage of the opportunity that the platform and the pulpit provided her.
– Democratic consultant and former state Democratic Party Executive Director Basil Smikle
The end of the legislative year brought with it threats to abortion rights and a refocus on gun control, both national issues that Hochul successfully responded to, pivoting attention away from much recent negative press. After an executive order to create a grant program for abortion providers, lawmakers passed an additional six bills the strengthen abortion access in the state. Hochul is already campaigning heavily on recent action on abortion at the state level, amplified by her status as the state's first female governor and the only woman in the race. "On reproductive choice, I think Kathy was on that," Camille Rivera, a progressive Democratic consultant with New Deal Strategies, commented about the governor's recent debate performance when Suozzi tried to hit her for not doing enough on abortion rights. "I think it was kind of silly for Suozzi and others to figure out how to go after her on that." The draft ruling turned abortion into a campaign issue, and Hochul used her power as governor during the legislative session to ensure it would be to her advantage. 
Hochul's ability to usher through gun violence legislation that raises the age to buy semiautomatic rifles, bans the civilian sales of bulletproof vests, strengthens the state's red flag law and holds social media companies more accountable for hate speech on their platforms, among a slew of other provisions to strengthen the state's gun laws, gave her an incredibly strong ending to an already fairly successful legislative session. "She used her power as the executive assertively," Horner said, something that Hochul herself likes to reference when speaking about the speed at which the bills passed and she signed them into law. "She used the tools deployed to her effectively, both the bully pulpit and the institutional power." It has left Hochul in the enviable position of being able to say that she acted faster than any other state in the nation on gun control in the wake of the most recent horrific mass shootings, including amid a stalemate in Congress on the issue. "She looked good, she looked strong, she has a lot of talking points to go into the primary," Smikle said. "And we'll see how things shift in the general."