New York City
After hammering bail reform for a year, Eric Adams hits the campaign trail
The New York City mayor plans to attend a get out the vote rally the weekend before Election Day, but some suggest his focus on crime has played into Zeldin's strategy.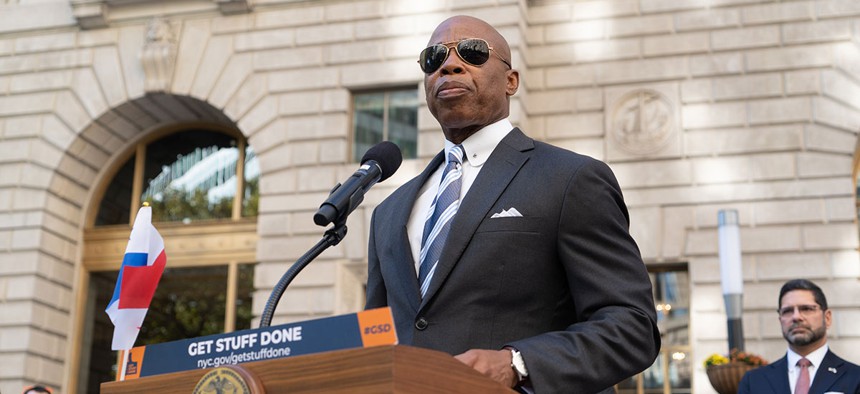 Amid a surprisingly close gubernatorial race and more than half a dozen consequential congressional districts up for grabs, national Democratic figures including President Joe Biden, Vice President Kamala Harris, and former Secretary of State Hillary Clinton are flocking to New York to stump for Gov. Kathy Hochul, including in districts where other Democrats are hoping to hang on to or flip competitive seats. New York City Mayor Eric Adams is there too, sometimes.
But Adams has not exactly been blanketing the city to get out the vote for Hochul – though that may be as much a result of the Hochul campaign's late shift in focus to New York City's blue stronghold. 
Some political consultants have said that Adams' focus on rising crime – the cornerstone of his own 2021 mayoral campaign – and his criticism of the state's bail reforms have played into Republican gubernatorial candidate Rep. Lee Zeldin's strategy. "Probably the most powerful tool that the mayor of New York City has is his bully pulpit," said Bill Neidhardt, former press secretary to former Mayor Bill de Blasio, and the founder of Left Flank Strategies. "For the past year at least, Eric Adams has been using his single largest tool, his bully pulpit, to advance the same message that Lee Zeldin is driving, directly undermining Kathy Hochul."
Election Day is around the corner, with four days left for Hochul to stave off a competitive challenge from Zeldin, and for Democratic congressional and state Senate candidates to make their cases to voters.
So far in the general election, Adams has appeared at a handful of events for Hochul, including a rally in Southeast Queens last Sunday. The two executives have also appeared together in their government functions in recent weeks, including to announce a surge of cops on the subway. Adams is set to do more campaigning over the weekend, with plans to attend a get out of the vote rally with Hochul and other prominent Democrats, including state Attorney General Letitia James and U.S. Senate Majority Leader Chuck Schumer, according to Evan Thies, a political adviser to Adams. 
Thies rejected the suggestion that Adams' own focus on crime has helped Zeldin's campaign. "Polling consistently showed that working people were worried about crime long before the mayor's race last year," Thies wrote in an email, citing a Siena College poll showing that in January 2020, 49% of respondents said the recently passed bail reform was bad for New York. "Mayor Adams is simply saying what working people are saying – that we have to do more to make people safe – and the leaders of our party, including the president and senior officials here in New York, have praised the mayor for his leadership on crime."
A spokesperson for the Hochul campaign did not immediately respond when asked how much the mayor has been asked to be involved in stumping for the governor. In the Democratic primary earlier this summer, in which Hochul faced opponents to her left and right on the ideological spectrum, Adams waited to officially endorse Hochul until just two weeks before the election. 
Some political consultants said, however, that Adams has been a visible and effective campaign surrogate for Hochul in recent weeks. "He has been a leader within Democratic party in stumping for Hochul on the Democratic ticket," said Trip Yang, who is a member of City & State's advisory board. "It was just a couple days ago that Eric Adams helped headline a rally in Southeast Queens, which is a high turnout majority-Black neighborhood that Hochul really needs."
Thies said that Adams has been involved in some competitive state legislative races too. "The mayor has been raising support for fellow common sense Democrats in the state Legislature who will stand up for city residents, including some outside the city," he wrote in an email. "For instance, in the last few weeks he's hosted events for Monica Martinez and Sen. Jeremy Cooney." City & State categorized Cooney's race as a safe Democratic seat and Martinez's as a likely Democratic seat. Adams endorsed several state legislative candidates in the Democratic primaries earlier this year as well, though his picks for office turned out mixed results at the polls. 
But for an elected official with a national platform who has alluded to grander political ambitions and declared himself the "face of the new Democratic party," Adams has been relatively quiet on the state's multiple competitive congressional races, which could help determine who controls the House of Representatives for the next two years. Thies did not immediately respond when asked about Adams' involvement in any of the state's competitive congressional races. Adams has also been busy managing a rapid influx of asylum-seekers from border states over the past couple months, declaring the crisis a state of emergency in early October. The influx has slowed recently under new border policies from the Biden administration.
Some political consultants cast doubt on how much New York City's mayor could do in those competitive congressional races – most of which lie outside the five boroughs. "Not every campaign is going to want the current New York City mayor to come and campaign in a community outside of New York City," Yang said. Adams endorsed Democratic former Rep. Max Rose in his competitive rematch against Republican Nicole Malliotakis in a Staten Island and southern Brooklyn congressional district in early October. 
But it's not just campaign stumping and showing up at rallies that matters. Zeldin, the Republican Congress member who is waging a surprisingly competitive bid to unseat Hochul, has campaigned largely on public safety and painting both Hochul and the Democrat-controlled state Legislature as soft on crime. Zeldin has targeted the state's 2019 bail reform, which Adams has also consistently criticized, in particular.
While Neidhardt cast doubt on how much Adams could do for Hochul's campaign anyway, citing the mixed record of his previous state legislative endorsements, others said that it's good Adams is stumping for Hochul, even if his rhetoric on crime has been damaging. "Eric Adams is partly culpable for Republicans' aggressive attacks around crime and public safety that have been refuted by data," political consultant Camille Rivera, a partner at New Deal Strategies, wrote in a text. "While it's good that he's now stumping for Democrats across the state, the fact remains that for a period of time, he was exacerbating the problem. Future conversations about Democratic unity should take that into account."
Adams has continuously pressured Hochul to roll back the state's bail reforms. The governor and Legislature made some changes to the laws earlier this year that make more crimes eligible for bail, but Adams has pressed for more. More recently, however, Adams has shifted away from focusing on bail reform, saying that there are many other important criminal justice issues to pay attention to. The shift could be a political gift to the governor. "In the past couple of weeks and months, he has really shied away from that," Yang said of Adams' previous focus on bail reform. "He's emphasized areas that he agrees with and is working with the governor, such as gun violence prevention programs."
Zeldin has attempted to link himself to Adams, saying the two would work well together if he is elected. Spokespeople for the mayor, along with Adams himself, have shot down those attempts. "(Hochul) has been an amazing partner, and I am fighting like hell to get guns out of schools. And I am not aligned with anyone that believes we should be giving guns to teachers and others," Adams said at an unrelated press conference this week, referencing Zeldin's recent suggestion to arm school safety officers and teachers. "Everyone knows that I endorsed, support, campaign for, rally for Kathy Hochul."