Campaigns & Elections
The New Majority NYC endorses 27 women for City Council, including four non-incumbents
The group formerly known as 21 in '21 hopes to keep the New York City Council majority women.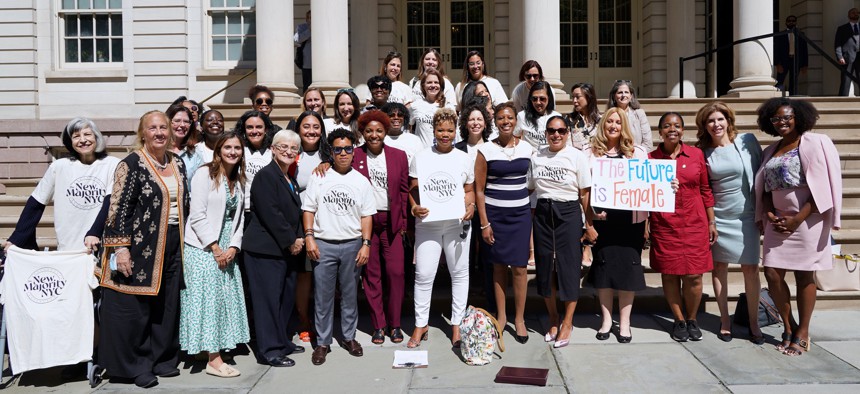 Susan Zhuang is getting an early endorsement in the race for the open New York City Council seat in southern Brooklyn. She isn't alone – Zhuang is one of 27 women getting endorsed by the New Majority NYC – but the support of a group known for successfully fighting to get more women in office could be particularly helpful in the new City Council District 43, which is expected to be the only City Council race without an incumbent.
The New Majority NYC, formerly known as 21 in '21, played a key role in bolstering the number of women represented in the City Council since its founding in 2017. The group surpassed its initial goal two years ago when voters elected 31 women to the body – the majority of whom were women of color. Members' work has since shifted into a new stage of sustaining the majority of women in the city's political leadership for years to come. The group's endorsements for the 2023 City Council elections were staked around that premise.
"We're thrilled to see so many women who are stepping up and saying that they want to represent their communities," said Yvette Buckner, executive board chair for the New Majority NYC. "It's so critical and important because they are seeing what's happening on the ground from very different perspectives." 
This first round of endorsements was shared exclusively with City & State. The New Majority NYC is holding a press conference Thursday afternoon with some of the endorsees. 
While the council's primary election isn't until June 27 and the general election not until Nov. 7, Buckner said the group likes to release endorsements early so that candidates can get as much help as possible with fundraising, their strategy, speeches, relationship building and other facets of their campaign. The group also matches former council members with candidates through a mentorship program, primarily pairing people based on shared life experiences.
Most of the endorsees probably won't need the support this year, at least from an electoral perspective. Twenty-three of them are incumbents. And the New Majority NYC did not endorse any candidates who are challenging incumbent men.But in addition to Zhuang who is running in a substantially redrawn, majority Asian American district, the group backed two other non-incumbents.
Democrat Amber Adler, a former candidate hoping to unseat Republican City Council Member Inna Vernikov in the general election, scored an endorsement in District 48 in southern Brooklyn.Adler got third place in the primary two years ago despite the barrage of attacks on her faith as an Orthodox Jewish woman and her advocacy for women. But the endorsement is just for the primary, where nobody else has filed yet to run against Adler. So the New Majority NYC did not formally endorse against Vernikov, a female incumbent. 
That's not the case in District 9 in Harlem, where the New Majority NYC endorsed Assembly Member Inez Dickens over Council Member Kristin Richardson Jordan. Richardson Jordan got the group's second-ranked endorsement two years ago, but the socialist has courted controversy in her first year, voting against Adrienne Adams as speaker, tweeting apparent justifications of the Russian invasion of Ukraine and opposing a controversial rezoning that would have created some affordable housing units. The Democratic primary has already taken on a fairly competitive tone, and Richardson Jordan is likely to lose other mainstream endorsements that some incumbents take for granted. 
The New Majority NYC also gave one of Zhuang's opponents, Wai Yee Chan, a second-ranked endorsement. The primary will use ranked-choice voting, and some organizations' endorsements reflect that.  
Buckner said the group endorsed people with a "very clear victory path" and who aligned with bottom-line issues like equity, inclusion and reproductive rights. 
"We do these early endorsements because it makes a difference," Buckner said. "(The election) is only about four and a half months from now. It's not a lot of time to really make sure you get out your base and you do all things on the ground and online … Everyone gets information differently. Making sure that they have a dual approach is going to be really helpful and we're here to help all the candidates." 
The New Majority NYC also endorsed incumbent Council Members Julie Menin, Gale Brewer, Carmen De La Rosa, Marjorie Velázquez, Pierina Sanchez, Amanda Farías, Sandra Ung, Tiffany Cabán, Linda Lee, Julie Won, Nantasha Williams, Adrienne Adams, Lynn Schulman, Selvena Brooks-Powers, Jennifer Gutiérrez, Crystal Hudson, Sandy Nurse, Alexa Avilés, Shahana Hanif, Rita Joseph, Farah Louis, Mercedes Narcisse and Kamillah Hanks. 
The New Majority NYC said a handful of incumbent women, including Council Member Carlina Rivera and Diana Ayala, did not apply.