Eric Adams
Why isn't Eric Adams endorsing many City Council candidates?
The mayor has only endorsed two of the Democratic Council members facing tough re-election fights against Republican challengers.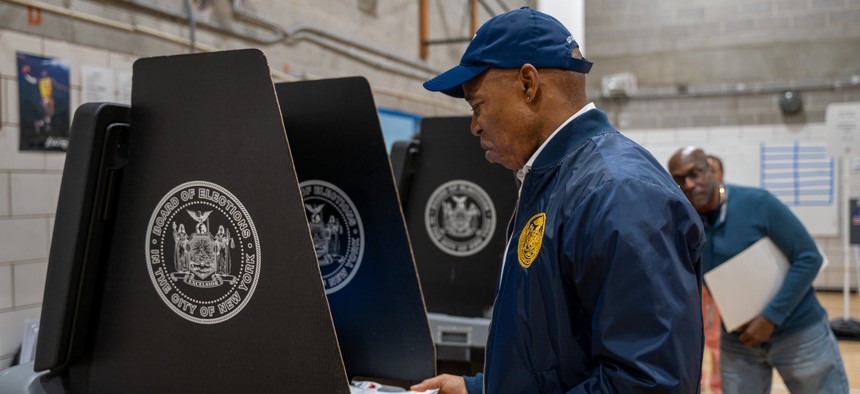 New York City Mayor Eric Adams has largely stayed out of the Nov. 7 general election, declining to endorse fellow Democrats running against Republicans in tight races.
He's only formally voiced his support of New York City Council Finance Chair Justin Brannan and Majority Leader Keith Powers – both of which were announced through Politico over the past two weeks. Powers, a popular Democrat representing deep-blue midtown Manhattan, will no doubt soar to re-election. But while Brannan's race against fellow incumbent Ari Kagan in southern Brooklyn is the city's marquee matchup, there are a handful of other competitive contests where Republican candidates could pick up additional City Council seats.
Asked whether he's worried about Republicans gaining influence in the upcoming City Council elections, Adams said at an unrelated press conference last month that he's not concerned. "Go on the ground, speak to voters," he said. "All of those seats that are coming up, we're going to be doing some endorsements in those races, but it's about speaking to the voters … that is what's going to determine the outcome of these races."
Adams – a former state senator – made a number of endorsements in last year's state legislative races, endorsing a slew of moderate Democratic legislative candidates who faced off against progressive opponents in the primaries. Those candidates' successes were somewhat of a mixed bag. But he's been much more quiet in the build-up to the first City Council general election since he became mayor. The only candidate he formally backed in this summer's Democratic primaries for City Council was Assembly Member Inez Dickens, who lost the primary to criminal justice reform advocate Yusef Salaam.
Democratic political strategist Hank Sheinkopf said Adams' endorsements this election cycle were judicious. "He wanted to make a statement in Brooklyn and Brannan and Powers are critically important players on the City Council," Sheinkopf said. "He did the right thing for himself."
Strategy is central to mayoral endorsements. Like his predecessors, Adams has an incentive to dole out official support specifically in races that would likely benefit him. For example, Sheinkopf said, endorsing Brannan won't garner any backlash from the left, but backing Democrat Tony Avella over incumbent Council Member Vickie Paladino in northeast Queens's District 19 would be unlikely to win him any points in a part of the city that's already leaning more to the right. The political calculus was likely similar for Adams during the primary, Sheinkopf said. While Dickens ended up losing to Salaam, Adams' endorsement signaled his support for a candidate who reflected one of his critical voting populations – older African American women in Harlem.
It's true that Adams isn't super popular in the City Council districts with the tightest races. He lost handily to Republican Curtis Sliwa during the 2021 mayoral race in District 19 and in southern Brooklyn's District 43 where Democrat Susan Zhuang is currently facing Ying Tan in a competitive matchup. He also lost, albeit to a much smaller margin, in Brannan's District 47 and in the Bronx's District 13 where incumbent Marjorie Velázquez and Kristy Marmorato are going head to head.
Chris Coffey, a Democratic political strategist who used to work for former Mayor Mike Bloomberg, said he's not struck by the lack of endorsements Adams has made this cycle. In the case of Powers and Brannan, he said he thinks the mayor made those endorsements largely because of his relationship with them as opposed to any sort of citywide impact his support might have. Both hold leadership positions within the City Council. Brannan also backed Adams back in 2021 during the mayoral primary.
"We will see what next year is like with midterms and 2024 for state senate, congressional, and assembly races," Coffey said. "My assumption would be that he does more politically in a presidential year than a very boring off year council election."