2023 elections
2023 New York City Council general election races to watch
There will be battlegrounds across the city as Republicans try to add to their gains in recent years.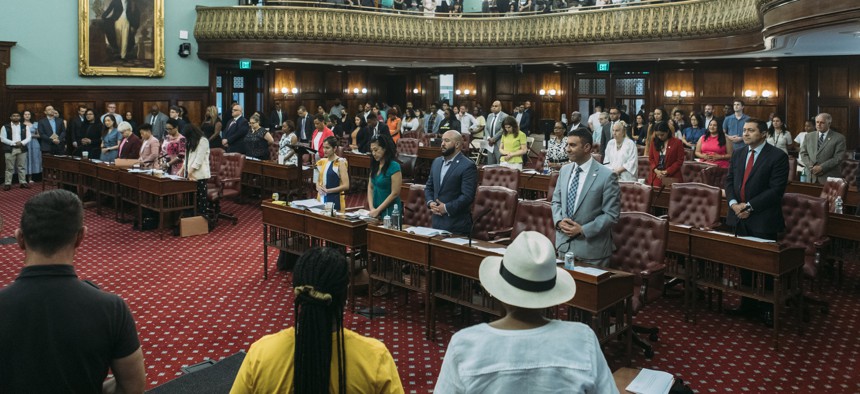 Every New York City Council member is up for reelection in November. But because this is New York City, only a fraction of those 51 general election races will be even somewhat competitive.
Despite being a heavily Democratic city, pockets of the five boroughs have seen some Republican momentum in the past few elections. Republican upsets in a handful of Assembly races last year in southern Brooklyn as well as strong turnout for the top of the GOP ticket in parts of eastern Queens and the East Bronx in the 2021 mayoral election and the 2022 governor's race has even well-situated Democrats on their toes. Though still outnumbered 45-6, the council's Republican conference is as large as it has been in years. "Republicans in the council may no longer be unicorns," said Democratic political consultant Evan Stavisky. "Still, most general elections are fundamentally noncompetitive."
But November's election presents an opportunity for Republicans to build on their recent momentum, though there are also a couple of GOP incumbents facing enthusiastic opponents. "If Republicans can get one pickup, that's a real victory," said Republican political consultant William F. B. O'Reilly.
In those more purple neighborhoods in Brooklyn, Queens and even the Bronx, incumbent Democrats can't take reelection for granted. In a recent special election for an open Assembly seat in eastern Queens, Democrats brought out every tool in the toolbox to secure a win for moderate Democrat Sam Berger.
As they have in recent elections, Democrats will be hammered by the GOP on public safety and concerns about crime – which was up in the past fiscal year compared to the previous year. "Where there are real races in the fall, there are ethnic populations and there are people who are more concerned about quality-of-life issues than they are about ideology," said Hank Sheinkopf, a Democratic political consultant.
The asylum-seeker crisis – leading to an influx of more than 100,000 asylum-seekers to New York City since last spring – could be a new wedge issue, as the city struggles to provide shelter and resources to that population, and as Republicans ramp up calls for the city to shut out new arrivals.
With just a week until Election Day, these are the key City Council races to keep an eye on. This post was originally published on Sept. 18. It was last updated on Oct. 30.
District 13
Southeast Bronx, including Throggs Neck, Pelham Bay and Morris Park
Candidates: Incumbent Marjorie Velázquez (Democratic), Kristy Marmorato (Republican, Conservative)
2020 census demographics: 44.9% Hispanic, 31% white, 12.1% Black, 8.3% Asian
2023 voter enrollment: 61% Democratic, 14.5% Republican, 20.8% unaffiliated
2021 mayoral election results: Curtis Sliwa (R) 48.5%, Eric Adams (D) 47.4%
2022 gubernatorial election results: Kathy Hochul (D) 52.73%, Lee Zeldin (R) 47.17%
Fundraising: 
Velázquez: $387,263 raised, $178,157 on hand as of Oct. 23
Marmorato: $235,836 raised, $34,474 on hand as of Oct. 23
Why we're watching: A Republican hasn't been elected as a representative in the Bronx over the past 20 years, but if it were to happen anywhere, it could very well be in District 13. Incumbent Democrat Marjorie Velázquez, who defended her seat against three primary challengers in June, is expected to face a competitive challenge from first-time political candidate Kristy Marmorato, an X-ray technician who could benefit from her strong ties to the borough's Republican Party. Marmorato's brother is Bronx Republican Party Chair Michael Rendino – and his endorsement drew some flak during her own competitive primary – and her husband, Gino Marmorato, is the Bronx GOP commissioner for the New York City Board of Elections.
Velázquez has benefited from the backing of labor unions, including the New York City District Council of Carpenters, which can play decisive roles in municipal elections, but her eventual support of the controversial Bruckner Boulevard rezoning sparked a surge of backlash from many constituents, even as it helped her earn labor's support. Housing as well as public safety and other quality-of-life issues will be central to this race.
Low turnout this fall could be a potential boon for Marmorato, given that Republicans tend to be fairly steady voters in the district. While the district is in a section of the Bronx that's the friendliest to Republicans, voters tend to lean toward more moderate candidates. "The Democrats in the 13th Council District are the kind of Democrats that support Republicans, but they don't support any Republican," said J.C. Polanco, a centrist political analyst.
Marmorato has pitched herself as a more moderate Republican. Velázquez, too, has established herself as a more moderate Democrat, leaving the City Council's Progressive Caucus earlier this year after leaders asked members to sign a new statement of principles.
Velázquez will need to take the race seriously, said Trip Yang, a Democratic strategist. 
"Marjorie is someone who has always done well with Democratic leaders. The Democratic leaders really rallied and prioritized Marjorie in a primary earlier this year. I expect her to have similar success rallying the Democratic leaders, the elected officials, the party organizations, the labor unions around her in the general election," Yang said. "It really matters when the party is energized around you. That being said, the Republican establishment seems to be energized around Kristy."
District 19
Northeast Queens, including College Point, Whitestone and Bayside
Candidates: Incumbent Vickie Paladino (Republican, Conservative/Common Sense), Tony Avella (Democratic, Taxpayers Unite)
2020 census demographics: 39.2% white, 37.9% Asian, 19% Hispanic, 1.6% Black
2023 voter enrollment: 49.4% Democratic, 20.2% Republican, 26.8% unaffiliated
2021 mayoral election results: Sliwa (R) 59.4%, Adams (D) 37.4%
2022 gubernatorial election results: Lee Zeldin (R) 57.02%, Kathy Hochul (D) 42.86%
Fundraising: 
Paladino: $389,245 raised, $66,261 on hand as of Oct. 23
Avella: $340,976 raised, $94,130 on hand as of Oct. 23
Why we're watching: It's Paladino vs. Avella round three – the most competitive of the council rematches this year. Vickie Paladino, a Trump-supporting Republican, defeated former Democratic state senator and former New York City Council Member Tony Avella in this Northeast Queens district by a couple hundred votes in 2021. Two years later, and with no candidates at the top of the ticket to boost turnout, Paladino comes in with an incumbent's advantage. Though her anti-LGBTQ statements and focus on issues like drag queen story hour events could be alienating to moderate voters, Paladino has been active on quality-of-life issues in the district, one Queens insider said.
Still, District 19 is more moderate than MAGA. While not an immediate incumbent, Avella is known in the district and has appealed to the Democratic base and moderates in the past. But Avella has his own complicated history with the Democratic Party. He was a member of the state Senate Independent Democratic Conference, and he eventually lost a Democratic primary to now-state Sen. John Liu over it. In the Democratic primary earlier this year, he only scraped by. Still, he's got Queens Democrats like Borough President Donovan Richards backing him.
Public safety and quality-of-life issues are likely to dominate in this election as well as the influx of asylum-seekers to New York City. "You can't go toe to toe with her on the migrant issue, she'll beat you," Polanco said. "The only thing you can do is galvanize Democrats because you have more registered voters, and then try to really excite the Democrats to come out in large numbers by tying her to the national GOP."
This district overlaps with part of Assembly District 27, in which moderate Democrat Sam Berger recently won a special election. But Berger's opponent, Republican David Hirsch, performed well in the neighborhoods that overlap with this council district, including Whitestone, College Point and Beechhurst. College Point is home to a migrant respite center that Paladino has vocally opposed – as have some residents there.
Avella could pull from the national playbook and draw attention to Paladino's support of anti-abortion groups and ties to Rep. George Santos, whose district overlaps with this one. Paladino has said that the indicted member of Congress should only resign if his criminal wrongdoing is proven – a somewhat mild criticism of the truth-challenged representative compared to others in the GOP who have eagerly distanced themselves from Santos.
District 20
Queens, including Flushing, Queensboro Hill and Murray Hill
Candidates: Incumbent Sandra Ung (Democratic), Yu-Ching James Pai (Republican/Medical Freedom, Conservative/Common Sense), Jin Liang Chen (Better Flushing Party)
2020 census demographics: 71.9% Asian, 15.2% Hispanic, 8.8% white, 2.4% Black
2023 voter enrollment: 56.3% Democratic, 11.4% Republican, 30% unaffiliated
2021 mayoral election results: Adams (D) 50.3%, Sliwa (R) 45.2%
2022 gubernatorial election results: Kathy Hochul (D) 50.02%, Lee Zeldin (R) 49.81%
Fundraising: 
Ung: $259,608 raised, $112,466 on hand as of Oct. 23
Pai: $161,165 raised, $45,531 on hand as of Oct. 23
Chen: $361,331 raised, $60,725 on hand as of Oct. 23
Why we're watching: In another rematch, Democratic New York City Council Member Sandra Ung is facing a challenge from Republican Yu-Ching James Pai, an accountant who lost to Ung by a couple thousand votes in 2021. Even with her decent margin of victory last time around, Ung is running a robust campaign in the district, which showed impressive turnout for Republicans in both the 2021 mayoral race and last year's race for governor. Last year, Democratic Assembly Member Ron Kim only narrowly won reelection in an overlapping district.
The neighborhoods in the district are overwhelmingly Asian American, including a large population of Chinese Americans – a constituency with whom the Democratic Party is not performing well. Both candidates are making public safety a top issue, and Ung, a relatively moderate Democrat, has also pointed to her work on language access in the council. Ung carries a mix of union endorsements, including the United Federation of Teachers, District Council 37 and the Detectives' Endowment Association.
District 23
Eastern Queens, including Hollis, Douglaston and Bellerose
Candidates: Incumbent Linda Lee (Democratic), Bernard Chow (Republican/Common Sense, Conservative/Medical Freedom)
2020 census demographics: 44.6% Asian, 21.7% white, 14.5% Hispanic, 10.7% Black
2023 voter enrollment: 59.7% Democratic, 12.7% Republican, 24.6% unaffiliated
2021 mayoral election results: Adams (D) 56.7%, Silwa (R) 40%
2022 gubernatorial election results: Kathy Hochul (D) 59.46%, Lee Zeldin (R) 40.41%
Fundraising: 
Lee: $468,322 raised, $115,542 on hand as of Oct. 23
Chow: $202,590 raised, $53,665 on hand as of Oct. 23
Why we're watching:
Democratic New York City Council Member Linda Lee took the 2021 election in this eastern Queens seat with plenty of breathing room, earning well over half the vote to defeat Republican James Reilly. Lee, a former nonprofit executive and chair of the City Council Committee on Mental Health, Disability and Addiction, is well positioned this November. But District 23 is one of those seats that Democrats can't neglect in a year where Republicans will be hoping for a "red wave."
The district has an Asian American plurality, making it one to watch because of the shift right in some Asian American communities, political consultants said. Republican Bernard Chow, who has worked as a community outreach liaison for the state Senate Republicans, has highlighted public safety, education and small-business support in his campaign.
This is also a district where the asylum-seeker crisis could be a factor. Lee, along with several Democratic state lawmakers, opposed the creation of a migrant tent shelter at Creedmoor Psychiatric Center in the district, arguing that the facility doesn't have the resources to support migrants. That shelter has nonetheless opened up, and Chow could play on frustrations about that and other migrant shelters.
District 29
Central Queens, including Kew Gardens, Rego Park and Forest Hills
Candidates: Incumbent Lynn Schulman (Democratic), Danniel Maio (Republican, Conservative), Sukhi Singh (Common Sense)
2020 census demographics: 30.7% white, 27.7% Asian, 24.4% Hispanic, 5.9% Black
2023 voter enrollment: 60% Democratic, 12.5% Republican, 24.6% unaffiliated
2021 mayoral election results: Adams (D) 59.6%, Sliwa (R) 35.9%
2022 gubernatorial election results: Kathy Hochul (D) 60.22%, Lee Zeldin (R) 39.57%
Fundraising:
Schulman: $394,443 raised, $59,986 on hand as of Oct. 23
Maio: $3,036 raised, $1,281 on hand as of Oct. 23
Singh: $236,435 raised, $19,457 on hand as of Oct. 23
Why we're watching:
Democratic New York City Council Member Lynn Schulman won election to the council by a comfortable margin in 2021, but she's not taking reelection for granted. This diverse Queens district picked up a significant part of Richmond Hill during redistricting, and it's still heavily Democratic though it has some more conservative pockets. Schulman faces two opponents this year; Republican Danniel Maio, a perennial candidate who has not raised much money so far, and Sukhi Singh, a Democrat who lost in the primary and is now running on the Common Sense Party line.
As chair of the Health Committee, Schulman has a prominent role in the council. Though Singh has raised a competitive amount of money, his third-place performance in the Democratic Party primary showed that challenging Schulman will be an uphill battle.
District 43
Southern Brooklyn, including Sunset Park, Bensonhurst and Gravesend
Candidates: Susan Zhuang (Democratic), Ying Tan (Republican), Vito LaBella (Conservative)
2020 census demographics: 53.9% Asian, 27.3% white, 15.3% Hispanic, 0.9% Black
2023 voter enrollment: 51% Democratic, 14% Republican, 32.5% unaffiliated
2021 mayoral election results: Sliwa (R) 60.1%, Adams (D) 35.2%
Fundraising: 
Zhuang: $433,396 raised, $96,273 on hand as of Oct. 23
Tan: $339,449 raised, $58,457 on hand as of Oct. 23
LaBella: $110,104 raised, $44,195 on hand as of Oct. 23
Why we're watching: Meet New York City's newest council district. Freshly created by the New York City Districting Commission, the district was drawn with a majority Asian American population. Any open seat is worth watching. But smack dab in the middle of southern Brooklyn – the site of several Republican upsets in 2022 and home to voters who don't hold strong party affiliations – this race could be one of the most competitive this year. That is, if the two Republicans actively campaigning in the race don't split the conservative vote to the benefit of Democrat Susan Zhuang.
Republican Ying Tan, a Chinese immigrant and community activist, won the Republican primary in June against Vito LaBella, a former cop and education advocate. But LaBella lost by only a couple dozen votes and retained the Conservative Party line. Despite concerns that running two Republicans will split the GOP vote, LaBella is staying in the game as a third-party candidate, saying that he brings the most experience to the table.
Zhuang, who is also Chinese American, is the chief of staff to Assembly Member William Colton and won by a significant margin in what was expected to be a more competitive Democratic primary for the seat in June. In that race, she positioned herself as the farthest right – even reportedly saying "my ideas are the ideas of the Republican Party" – and got practice campaigning on some of the same issues that are likely to dominate debate in the general election. Zhuang, Tan and LaBella are all highlighting their focus on crime and their support of the city's specialized and gifted education programs. Tan has also called for making early childhood education and after-school programs more accessible across the city.
Public safety and education are some of the issues that have nudged Asian American voters to the right in recent years – including among Chinese American communities in Sunset Park and Bensonhurst, where voters in this district favored Republican mayoral candidate Curtis Sliwa in 2021. Broad concerns about public safety have been exacerbated by hate crimes targeting Asian Americans.
Neighborhoods in the 43rd District have some of the highest concentrations of Chinese American voters in the city. "Frankly, Chinese American voters, to me, are the new battleground swing voters," Yang said.
District 47
Southern Brooklyn, including Bay Ridge, Coney Island and Sea Gate
Candidates: Incumbent Justin Brannan (Democratic), Incumbent Ari Kagan (Republican, Conservative/Parent)
2020 census demographics: 48.7% white, 20.2% Asian, 18.6% Hispanic, 8.5% Black
2023 voter enrollment: 54.5% Democratic, 17.3% Republican, 24.8% unaffiliated
2021 mayoral election results: Sliwa (R) 47.8%, Adams (D) 47.3%
Fundraising: 
Brannan: $349,282 raised, $72,273 on hand as of Oct. 23
Kagan: $391,492 raised, $53,118 on hand as of Oct. 23
Why we're watching: Most of the candidates in competitive races this year don't face the risk of awkwardly running into their opponent at work the day after bashing them online or attacking them in the press. The same can't be said for New York City Council Members Justin Brannan and Ari Kagan – two incumbents facing off after a redistricting shake-up and a party switch by Kagan.
Amid a protracted redistricting fight in southern Brooklyn last year, the 47th District was redrawn to include much of Bay Ridge in Brannan's current district, and then stretch down through Bath Beach to Coney Island and Sea Gate, which represents a large part of Kagan's current district. Kagan, a former Democratic district leader with long-standing ties to Democrats in the area, switched to the Republican Party late last year, saying that the Democratic Party was moving away from his values. Another benefit of the switch: avoiding a primary challenge with Brannan, who is generally popular among Democrats.
Now Brannan and Kagan are going head-to-head, each bringing along decent chunks of their current districts. Though the district has a Democratic enrollment advantage, Republicans have had success flipping seats in southern Brooklyn in recent years, drawing on both Democrats with loose party affiliation and independent voters. Brannan has always faced close races with Republican challengers and come out ahead.
While Kagan doesn't enjoy Brannan's prominence in the council, he has been speaking to some of the top issues facing moderate residents of the district. Both candidates are focusing on public safety concerns, but Kagan is playing on the perception that Democrats are soft on crime.
District 48
Southern Brooklyn, including Brighton Beach, Manhattan Beach, Sheepshead Bay
Candidates: Incumbent Inna Vernikov (Republican, Conservative), Amber Adler (Democratic, We the People), Igor Kazatsker (Team Trump)
2020 census demographics: 67.5% white, 17.8% Asian, 8.3% Hispanic, 2.1% Black
2023 voter enrollment: 42.7% Democratic, 25.4% Republican, 29.1% unaffiliated
2021 mayoral election results: Sliwa (R) 64.4%, Adams (D) 32.1%
2022 gubernatorial election results: Lee Zeldin (R) 73.29%, Kathy Hochul (D) 26.56%
Fundraising: 
Vernikov: $276,315 raised, $45,448 on hand as of Oct. 23
Adler: $139,846 raised, -$15,309 on hand as of Oct. 23
Why we're watching:
Republican New York City Council Member Inna Vernikov, a Jewish Ukrainian American lawyer, was soundly elected in 2021. She has since reinforced her reputation as a staunch conservative who has both supported and been backed by former President Donald Trump. Still, her reelection is not necessarily guaranteed in this southern Brooklyn district, which is home to many Orthodox Jews as well as Russian and Ukrainian immigrants. Amber Adler, a civic leader and Orthodox Jewish woman who has advocated for women stuck in unwanted marriages, among other causes, is again vying for the seat two years after placing third among a crowded field of candidates during the 2021 Democratic primary.
Vernikov does have a clear advantage. She has raised a lot of money, is fairly popular among Republicans and became a prominent public face for the Ukrainian community in the U.S. during the Russian invasion. While the district historically voted Democratic and the party has maintained a voter registration advantage over Republicans, many residents have little loyalty to the Democratic Party, according to a political strategist. Both Zeldin and Sliwa got more votes than Hochul and Adams during the most recent mayoral and gubernatorial races.
Still, Adler is no stranger to pushing through opposition. She faced a barrage of messages attempting to discredit her campaign as an Orthodox Jewish woman during her last campaign. Local news refused to publish her photo for religious reasons and, at one point, a group of men protested outside her house.
Powered By
NEXT STORY: Who's who in Eric Adams' administration