Winners & Losers
Winners & Losers of 2021
Who made the best of a difficult year – and who didn't.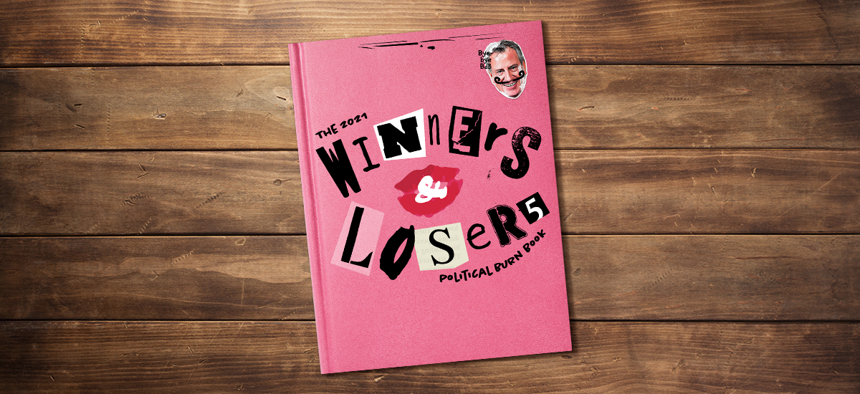 2021 giveth, and 2021 taketh away. Vaccines arrived to save the day (and they did), but if you thought you could throw out your collection of face masks already, you had another thing coming. New York state got its first female governor! How did we come to this remarkable milestone? Her predecessor fell from grace after numerous damaging scandals and had to resign to avoid impeachment (falling out of power is a time-honored tradition in Albany). This was accompanied by a realignment of power at the state Capitol that (among other things) legalized recreational marijuana and online sports betting. There was also a whole lot of change in New York City's political ecosystem – so many new faces will be joining the City Council, with historic representation for women, Asian Americans, Latinos, and LGBTQ people. And how about that new guy coming into the mayor's office, ready to set up his desk – and probably his mattress not too far away. We might have to adjust the timing of First Read when 2022 mayoral press briefings start taking place at 5:30 a.m. Without further ado, here's who ended the year on top of the world, and who ended up as a persona non grata.
Winners
Eric Adams
Eric Adams, New York City's mayor-elect, is a master of the art of persuasion. How else could he pass the ultimate political test of winning a New York City Democratic primary? Who, at age 15, would see the kid beaten in the basement of a police precinct and think he'd one day be a cop? Who, in 1996, would look at the rabble-rousing police officer, hated by many of his colleagues and under constant investigation, and think he would become an elected official? Who, in 2006, would look at this candidate running for state Senate, so supremely confident in himself, and think he'd actually become mayor? But by the time 2016 rolled around, politicos were taking the Brooklyn borough president seriously as a contender. And five years later, he did it: winning the June Democratic primary with 50.4% of the vote, once the ranked-choice voting tabulation played out, and winning the general election in November with a commanding 67% of the vote.
It was the culmination of years of planning, but that doesn't mean that success was guaranteed. He faced an uncertain race with surprising – and strong – opponents. You can laugh at Andrew Yang, but he struck a nerve and won over a lot of Asian voters who Adams thought would be part of his coalition. And who would have thought Kathryn Garcia, the lowkey bureaucrat, would catch fire? But Adams stuck to his plan, emphasizing his outer borough, Black working-class roots. The former cop was perfectly positioned to speak to the New Yorkers who were worried about an increase in certain crimes, while his history as a critic of the department meant that criticisms that he'd let the NYPD run rampant didn't stick.
And after the primary? Adams owned the long honeymoon. Every power broker in the city, the state, the country wanted to meet him, and he took the meetings – sometimes past midnight, often wearing a sharp red blazer, and always looking like he won a Grammy along with the keys to Gracie Mansion.
As hard as the election was, Adams has to know that was the easy part compared to what lies ahead. He'll make mistakes – the mayor-elect said he's "perfectly imperfect" – but you can't ever take away the fact that that kid from Queens was elected mayor of the greatest city in the world. Eric Adams always believed in himself, and in 2021, he persuaded the rest of the city to believe in him too.
Kathy Hochul
Few people have loved being lieutenant governor as much as Kathy Hochul. Her various travels as the two-term nominal No. 2 to Gov. Andrew Cuomo earned her a reputation for statewide ubiquity and she appeared to revel in all the ribbon-cutting, speech-making and ax-throwing that she got to do when she didn't have to stop by the state Capitol to preside over the state Senate as its official president. The fun disappeared in early 2021. Former gubernatorial aides accused Cuomo of sexual misconduct. Legislators accused Cuomo of covering up data that showed the true number of nursing home residents who died of COVID-19 in hospitals. Hochul laid low for months as Cuomo's political fate hung in the balance. Then one day in August, Hochul was politically reincarnated as the first female governor in state history after the scandalized governor resigned from office.
More than a few people doubted that Hochul could grab the reins of power and hold them firmly enough to find a pathway to victory in the 2022 Democratic gubernatorial primary. Naysayers said state Attorney General Letitia James would be too tough if and when she decided to run. Others pointed to the Western New York native's past positions on immigration and gun rights as evidence of how her Hamburger ways would not jive with important downstate constituencies. Yet, Hochul hustled when it mattered most. She handled natural disasters, worked with legislators and somehow convinced more than a few longtime supporters of her three-term predecessor that they should back her moving forward. Her ongoing status as the odds-on favorite to win a full term in office next year might even mean she likes her current job a heck of a lot more than the last one.
Michael Rebell and Robert Jackson
These guys – the first one an attorney and the second a state senator from Manhattan – scored a big victory on school funding this year after fighting the Second Floor since Mario Cuomo was governor. The big issue was whether the state was providing schools with enough money to provide a "sound basic education" to all students. Rebell and Jackson were the lead plaintiffs on a lawsuit that ended up going their way in the mid-2000s and they struck a deal with then-Gov. Eliot Spitzer to increase funding over the subsequent years. The only problem was that he would not be governor for long.
The state's finances got worse following the 2008 financial crisis and school funding was reduced accordingly. Then Andrew Cuomo became governor in 2011 and he was hardly in a hurry to honor the legacy of a longtime political rival like Spitzer, but Rebell and Jackson – who would end up getting elected to the New York City Council and later the state Senate in the middle of all of this – continued fighting. And that fight was still going on this year. Cuomo – who once dismissed their arguments as "ghosts of the past" – ended up surrendering as he fought for his political survival earlier this year. Gov. Kathy Hochul approved a figurative peace treaty. So it looks like Rebell and Jackson are getting a holiday season in which they can celebrate how this whole litigious saga ended.
Ron Kim
Assembly Member Ron Kim took on former Gov. Andrew Cuomo in a David vs. Goliath fight that precipitated Cuomo's long and rocky downfall. When news broke that the Cuomo administration had attempted to withhold data about the deaths of nursing home residents, Kim was one of the few lawmakers to criticize him openly, calling his actions on nursing home data "obstruction of justice." The issue was particularly raw for Kim, whose uncle, a nursing home resident, died of COVID-19 in 2020. Cuomo, furious about the public criticism, soon made a threatening phone call berating Kim. Kim went public about that, prompting other lawmakers to share with their own stories of screeds and threats from Cuomo. As the political winds began to shift, Cuomo later signed Kim's legislation, co-sponsored by state Sen. Alessandra Biaggi, to repeal pandemic liability protections for nursing homes and hospitals. Kim now serves as the chair of the Assembly Committee on Aging. But, as City & State's Annie McDonough reported in a June profile of Kim, the Queens lawmaker is more than a Cuomo antagonist. A childhood immigrant to Flushing, Queens, from South Korea, Kim has advocated for Asian American New Yorkers to be protected from the recent rise in hate crimes. He has also fought to decriminalize sex work, and he was an early supporter of Andrew Yang in his unsuccessful bid for New York City mayor. At the end of another packed year in New York politics, while Cuomo threatened to publicly destroy Kim, a long and winding road ultimately led to the opposite outcome.
Bhairavi Desai
For the past decade, New York City taxi drivers have been getting the short end of the stick. Taxi medallions – which once granted drivers the exclusive right to pick up street hails – greatly decreased in value after the unregulated arrival of Uber and its rivals beginning in 2011. An industry of largely immigrant medallion owners had bet the house on the once-promising investment of taxi medallions, and the reckless loans that were given out to make those investments went from burdensome to unmanageable. Despite calls for action, a City Council task force and endless protests, little was done for drivers. When Mayor Bill de Blasio announced a relief fund for medallion owners earlier this year, it was deemed an insufficient solution to a crisis City Hall had allowed to happen. No one was louder or more persistent in spreading that assessment than Bhairavi Desai, executive director of the New York Taxi Workers Alliance. After gaining little traction by organizing protests at Gracie Mansion or caravans to stop traffic on bridges, Desai's group took the extreme step of organizing a hunger strike outside City Hall this fall. A small but mighty group of drivers who had seen the financial burden of owning a medallion devastate many lives participated in a two-week hunger strike, along with a handful of allies and politicians. Through it all, Desai served as a constant thorn in City Hall's side, organizing drivers to not accept less than what they asked for. In the end, de Blasio caved to their demands for a debt relief plan that would have City Hall serve as a guarantor on drivers' loans, bringing taxi workers a long-awaited victory.
Losers
Andrew Cuomo & Co.
Oh, how the mighty have fallen. This time last year we were highlighting then-Gov. Andrew Cuomo's ability to soothe the state during the onset of the COVID-19 outbreak with his must-watch daily press conferences that earned him an International Emmy. This year, however, is a completely different story.
In August, Cuomo resigned following the release of not one but two damning reports that came out of state Attorney General Letitia James' office. The first report, released in late January, on the state's COVID-19 response in nursing homes revealed that the governor's office concealed the actual death toll of nursing home residents, which was far higher than what the state Department of Health reported. The second report, which came out in early August, corroborated 11 different allegations of sexual misconduct made against Cuomo and indicated that the governor helped foster a toxic work environment. Cuomo was first accused of sexual misconduct in December 2020 by Lindsey Boylan, but those allegations had yet to be substantiated until the release of James' report. Several days after the report was released, amid calls for his impeachment and resignation, Cuomo stepped down.
Now, Cuomo faces possible criminal charges for forcible touching, though it remains unclear how likely he is to be convicted. Cuomo and his spokespeople have continued to deny all of the allegations made against him and have insinuated that James' reports were fueled by her own political ambitions.
Since Cuomo's fall from grace, his Emmy was taken back. Even worse, Cuomo's controversial memoir about how he handled the COVID-19 crisis is at the center of an ongoing ethics scandal and he may be required to forfeit millions of dollars that he earned from the book deal. Now, what was it we said about him overcoming the third-term curse, again?
Lovely Warren
Former Rochester Mayor Lovely Warren had anything but a lovely year. She was once seen as a rising political star with her groundbreaking election as Rochester's first Black woman to serve as mayor, but her tenure has ended in scandal and disgrace. A bad 2020 just picked up steam this year, with hits that kept coming until she left office. Warren's descent began with her administration's entanglement with the police cover-up in the March 2020 death of Daniel Prude. Things got worse when state prosecutors indicted her on campaign finance charges in October 2020. The first big hit of this year came in June, when she lost her primary to Malik Wright by a landslide. So her days in office were always numbered. The next month, Warren faced more criminal charges, this time alongside her estranged husband. Both were charged with criminal possession of a firearm and two other misdemeanors that resulted from a search of Warren's home in relation to an investigation into her husband. The year could have turned out worse for Warren, given the felony weapons charge, had she gone to trial and a jury found her guilty. But she managed to avoid prison and felony convictions thanks to a plea deal that resolved both the criminal charges and the campaign finance violations in an agreement to leave office in December. Warren pleaded guilty to a misdemeanor campaign finance violation, allowing her to keep her law license since it wasn't a felony.
Andrew Yang
Andrew Yang has moved on from his failed attempts to run for president and mayor of New York City. After his rise and fall in the Democratic mayoral primary earlier this year, who wouldn't blame him for now putting his focus behind his new book, "Forward: Notes on the Future of Our Democracy," and efforts to start a third political party. Reinvention is always a good place to start after seeing your latest campaign nose dive.
Yang rose to lead the Democratic mayoral primary only to see his celebrity-like popularity diminish, landing him in fourth place after the results of ranked-choice voting were tallied. Not even the strategy of campaigning alongside Kathryn Garcia offered Yang any hope of winning – a move some observers said was more an attempt to stop or hurt Eric Adams' chances, who went on to clinch the primary and win the general election.
Yang's cheerleader approach to campaigning, backed by his "Yang Gang" of online admirers, wasn't enough to make up for the fact that New Yorkers picked up on the little things, like when a candidate hasn't voted in local elections nor previously held office.
There also was the revelation that Yang moved himself and his family out of the city as the coronavirus pandemic was surging, which was definitely not a good look. Add to that being derided for claiming that Times Square was his favorite subway station – a place many straphangers try to avoid if they can.
What sealed his fate and secured Yang a position on this list? Perhaps it was when his campaign went negative in an ill-fated attempt to slow down Adams. Yang going for the jugular just wasn't convincing after all the adoring fans he had attracted and the hype they helped create.
Dawn Sandow
With the introduction of ranked-choice voting this year, the New York City Board of Elections was bound to mess it up. Lawsuits plagued the rollout until the first special election in February using the new system – and the state hadn't even yet approved necessary software to tabulate results by then. Deputy Executive Director Dawn Sandow was mostly at the helm with perennial elections punching bag Executive Director Michael Ryan dealing with health issues. And to her credit, those first few hand-counted special elections went pretty smoothly. But then came the main event, the June Democratic primary for mayor. In the first round of counting, the board accidentally included 135,000 test ballots. As chaos reigned, the board issued a cryptic tweet about "discrepancies" and removed those initial results from its website. It took hours for the board to explain what happened. In the end, the mistake didn't create any lasting issues, and it was caught quickly, but candidates and observers alike criticized the Board of Elections for its mishandling of the election. Not to mention the infamous "brunch" tweet – if you know, you know. It renewed calls to overhaul the board, with legislative hearings held in different parts of the state resulting in a damning state Senate report on election operations. And for Sandow herself, the Board of Elections' bad year had consequences. She lost her No. 2 position, one she had held for over a decade, and was relegated to the Bronx office. The loss was compounded by the fact that the board ousted her after a short time at the helm, when Ryan weathered much more just fine.
New York City Department of Correction
The New York City Department of Correction isn't doing a good job. Over the summer, revelations of disturbing conditions inside Rikers Island highlighted a staffing shortage and an inhumane climate that contributed to the deaths of 16 inmates this year and a general spike in violence at the facility. The jail complex has been notorious since opening in 1932, but what makes the recent reports of dysfunction even more unsettling is the sharp increase of self-harm among inmates and the unsanitary conditions. Assembly Member Jessica González-Rojas, one of the many lawmakers who came to visit the institution after reports of disarray made headlines, described seeing "countless men being piled on top of each other, laying in their own urine and feces and people not getting the care that they needed." In response to the backlash regarding the deadly situation at Rikers, there has been a lot of finger-pointing on who is responsible. The Department of Correction, the authority responsible for ensuring safety and order in the jail complex, blamed the staffing shortage on COVID-19. The department's commissioner, Vincent Schiraldi, mentioned in a press conference that officers were using sick days as "an unlimited vacation pool." Correctional officers, who were accused of participating in violence in the jail complex and failing to act on urgent situations, cited a lack of direction from jail officials on how to salvage the increasingly violent situation and even pushed for the city to have Rikers shut down. Regardless of who is responsible, the situation continues to deteriorate, and it seems like officials and officers are making minimal progress in restoring humanity at the jail complex, which is scheduled to close by 2027.