Immigration
Following the asylum-seeker odyssey: a timeline
Tracking the arrival of migrants bussed to New York City from the southern border, from April 2022 to now.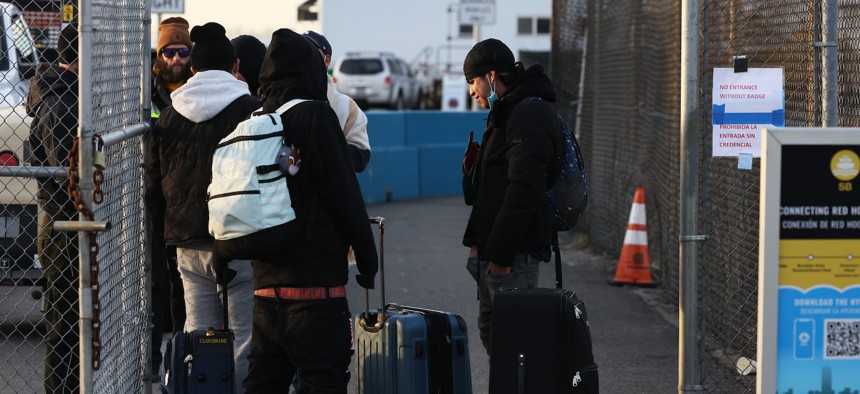 Around 50,000 asylum-seekers have arrived in New York City since spring 2022, some of whom are Venezuelan families fleeing the country's economic collapse. For the most part, city leaders have welcomed them with open arms. Advocacy groups and city organizations have worked together to meet people's needs while helping migrants chart their next steps. Still, it's been a costly undertaking and city leaders have increasingly sounded the alarm bells calling for more federal and state aid. Here's a timeline of the ongoing influx.
April 13, 2022: The first bus with migrants from Texas arrives in Washington, D.C. Some of those migrants then continue on to New York.
July 21, 2022: New York City Mayor Eric Adams said the city did not admit several asylum-seeking families to a shelter in a timely manner as required by law.
Aug. 5, 2022: The first bus of migrants sent by Texas Gov. Greg Abbott arrives at the Port Authority Bus Terminal.
Aug. 19, 2022: The Adams administration announces "Project Open Arms," a plan to support asylum-seeking families and children to help them enroll in school.
Sept. 8, 2022: Over 1,400 children from migrant families begin their first day of school in New York City.
Sept. 12, 2022: The Legal Aid Society says New York City failed to meet its right-to-shelter duty by failing to provide beds to at least 60 men.
Sept. 14, 2022: Claiming that the city's shelter system "is nearing its breaking point," Adams suggests that New York City may need to reassess its right-to-shelter law.
Sept. 22, 2022: Adams announces plans to open Humanitarian Emergency Response and Relief Centers to support asylum-seekers. He says the first one will open at an Orchard Beach parking lot in the Bronx. The site is criticized for being in a flood zone.            
Oct. 3, 2022: After a weekend storm leaves pools of water at Orchard Beach, city leaders say they'll move the tent complex to Randalls Island.
Oct. 7, 2022: Adams declares a state of emergency as the sheer volume of new arrivals overwhelms the city's shelter system.
Oct. 12, 2022: President Joe Biden invokes a pandemic-era rule known as Title 42, which prevents Venezuelans who illegally cross the border from seeking asylum.
Oct. 19, 2022: A 84,000-square foot migrant center opens on Randalls Island with 500 beds for single men.
Nov. 10, 2022: Adams says the controversial tent shelter on Randalls Island will close the following week due to the slowing rate of migrant arrivals.
Nov. 14, 2022: Migrants staying at Randalls Island are relocated to the Watson Hotel in Midtown.
Dec. 20, 2022: U.S. Senate Majority Leader Chuck Schumer and others negotiate $800 million for cities like New York struggling to provide aid to migrants.
Jan. 10, 2023: Gov. Kathy Hochul delivers her annual State of the State speech without mentioning the asylum-seeker crisis.
Jan. 15, 2023: Adams meets with local authorities and migrants at the southern border. He describes this as an information-gathering trip and another effort to pressure Biden to help the city.
Jan. 18, 2023: Adams travels to Washington, D.C., to continue advocating for federal funding.
Jan. 21, 2023: Adams says that a new Humanitarian Emergency Response and Relief Center will open to serve single adult men at the Brooklyn Cruise Terminal.
Feb. 7, 2023: Adams says the city plans to open a sixth emergency center at the world's tallest Holiday Inn, which is in the Financial District.
Feb. 8, 2023: Reporting circulates that New York City is buying bus tickets for migrants hoping to seek asylum in Canada. The government of Quebec asked Adams' City Hall to stop it. 
Feb. 15, 2023: Adams says a seventh emergency center will open at the The Wingate by Wyndham Hotel in Long Island City, Queens, this time for families with children. 
Feb. 21, 2023: The Biden administration proposes a new, more aggressive immigration measure that would assume migrants are ineligible for seeking asylum if they enter the U.S. illegally. The proposed rule, which would take effect on May 11 after the likely termination of Title 42, would allow authorities to carry out rapid deportations of migrants at border entries.
March 7, 2023: Adams unveils a new blueprint plan for the city's path forward with asylum-seekers that includes relocating some migrants to other cities and states, pivoting away from the Port Authority Bus Terminal in Midtown as the primary destination for newly arrived asylum-seekers and opening a "24/7 Arrival Center" instead, and creating a new Office of Asylum-Seeker Operations.
March 13, 2023: Adams announces that the city will soon open two more emergency centers as the location at the Brooklyn Cruise Terminal transitions back to its regular operations ahead of cruise season at the end of the month. The new centers, which will serve single adult men, will open in Midtown, Manhattan and Bushwick, Brooklyn.
March 13, 2023: The New York Post found that New York City's Immigration and Customs Enforcement office's appointments are fully booked through October 2032 for migrants released at the southern border.