2023 session wrap-up
Things to look out for as legislative session closes out
From sealing criminal records to parole and campaign finance law, state lawmakers have several legislative issues to tackle before heading to their districts for the rest of the year.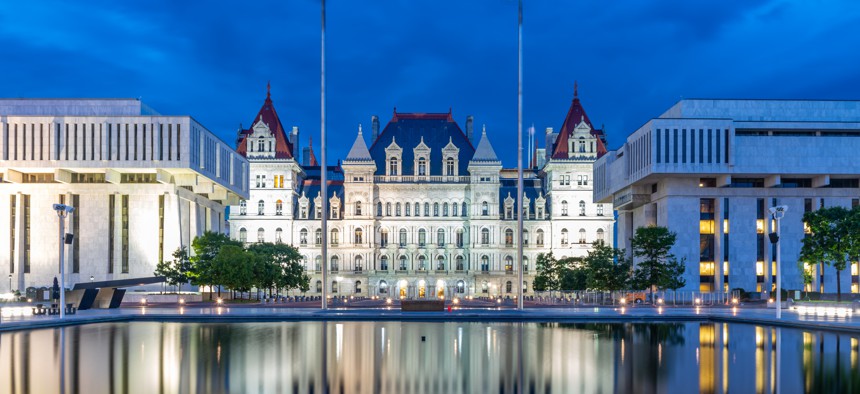 After a jam-packed legislative session – complete with a bitter chief judge nomination fight, ongoing fights over key policy issues affecting the state and a final budget delayed by over a month – it may be hard to accept that the session is just days away from ending. But before lawmakers officially pack up to leave Albany and return to their districts for the summer, there are still several big ticket items on the docket.
Here's a guide to the most prominent legislative issues that lawmakers are looking to tackle in the waning days of session:
Housing
While Gov. Kathy Hochul and the Legislature failed to include any housing proposals in the state budget, advocates have continued to sound the alarm on the negative implications of not addressing the state's housing crisis this year. The governor faced an uphill battle to garner support for her controversial Housing Compact plan, which was fiercely opposed by surburban lawmakers. But she still plans to continue pushing an aggressive housing agenda – even if it means she'll have to wait for a better deal next year. Housing is also a top priority for New York City Mayor Eric Adams, who made a last-minute push for a slew of housing initiatives in Albany last week. The policies pushed by Adams include converting vacant offices into housing, a limited extension on the expired 421-a tax incentive program for develops and raise the FAR cap for city buildings. 
State lawmakers are now working to introduce a last-minute housing package this week, with input from a special working group to help decide which housing policies to include. For years, housing advocates have called for the passage of "good cause eviction" protections and the housing access voucher program – and in the final week of session have not given up on those efforts. 
Clean Slate
For years, criminal justice advocates have been pushing throughout the session for legislation that would automatically seal people's criminal records once a certain amount of time has passed. After facing opposition last year, the sponsors of the Clean Slate Act made a few concessions to the bill with hopes of getting it over the legislative finish line this year. The changes to the bill ensured that certain entities, including some levels of law enforcement and the state education department, will continue to be able to access criminal records even after they are sealed to the public.
But debates over the "technical language" of the bill have long prevented its passage. As the session winds down, legislative leaders and Hochul have held closed-door negotiations and they now seem poised to reach a final agreement on the bill. The latest iteration of the bill would extend the waiting period for automatic sealing of felony convictions from seven years to eight years and make sex offenses and class A felonies (such as murder) ineligible for sealing.
Campaign Finance
Back in 2019, the state commission on campaign finance created a statewide public campaign donation-matching program, which included a number of reforms slated to start in time for the 2024 election cycle. Those reforms include limits on contributions to candidates running for elected office and a new public campaign donation-matching system for donations between $5 and $250. But, as first reported by Buffalo News, lawmakers are now weighing a tweak to the system. Rather than only matching donations under $250, they want to match up to the first $250 of all donations, including large-dollar donations. Several government reform groups have since sent a letter to legislative leaders opposing any changes to the campaign finance law.
Parole Reform
Aside from Clean Slate, criminal justice advocates have pushed for the passage of two popular parole reform bills. The Elder Parole bill would make older people who have already served more than 15 years in prison eligible for parole, while the Fair & Timely Parole bill would direct parole boards to consider evidence of people's rehabilitation, not just the severity of their original crimes, when deciding whether to grant parole. Bronx District Attorney Darcel Clark, Manhattan District Attorney Alvin Bragg and Brooklyn District Attorney Eric Gonzalez have all affirmed their support of the parole reform bills in recent months, and New York State Attorney General Letitia James signaled her support for the Elder Parole bill this week.
No Slavery In New York
Lawmakers and advocates have long pushed for the No Slavery In New York Act, which would amend the state constitution to prohibit incarcerated people from being forced to work. The bill, first introduced in 2019, has never made it out of committee in either the state Senate or Assembly.  But advocates and the bill's sponsors – state Sen. Zellnor Myrie and Assembly Member Harvey Epstein – still have not given up efforts to get it passed before the end of session.
Confirmations
In the final days of session, lawmakers are reviewing appointments for various gubernatorial nominations. Among them is Gov. Kathy Hochul's pick to lead the New York Power Authority,  Justin Driscoll. While Driscoll is already currently serving as the interim president and CEO NYPA, he's faced criticism from climate activists. As reported by the Buffalo News, the power authority faced discrimination complaints under Driscoll's leadership. It's unknown whether or not these reports will sway the nomination and the Senate is prepared to vote on his confirmation on Tuesday.
Grieving Families Act
At the start of the year, Hochul vetoed the popular legislation that would have updated the state's 175-year-old wrongful death laws. The governor's move received widespread criticism, and state lawmakers quickly reintroduced a new version of the Grieving Families Act this year with some changes. The revised bill would extend the time permitted to bring a wrongful death action by one year and six months – in addition to the two year statute already in place. The bill would also allow families to be compensated for emotional losses, not just economic ones. The measure has already passed both chambers and will advance for review by the governor.
Sammy's Law
Advocates and lawmakers have continued to push for the passage of legislation that would establish speed limits in cities with populations of more that one million people, such as New York City. The Sammy's Law bill, named for a child who was tragically killed by a speeding driver, passed the state Senate on Tuesday and is set to be reviewed the Assembly. In the days leading up to the vote, advocates for the bill went on a hunger strike and rallied at the state Capitol for passage of the bill.