Campaigns & Elections
Here are the New York Democratic Assembly lawmakers facing 2022 primary challenges
Races to watch on primary day – and their opponents aren't all coming from the left.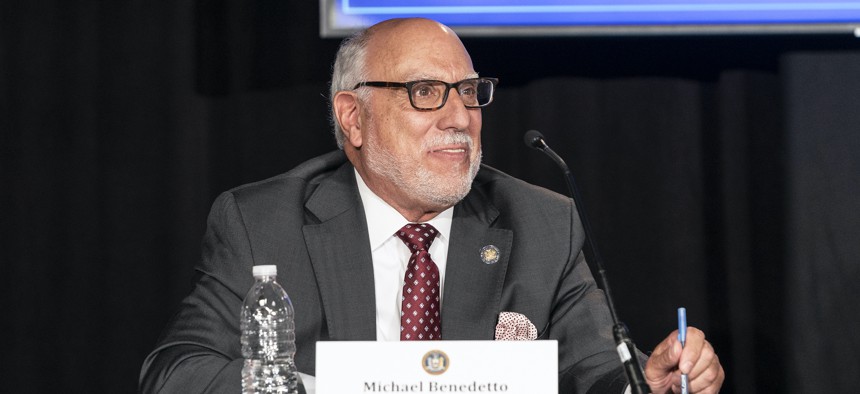 View 2022 Assembly primary results here. 
Democratic voters have until June 28 to decide who they want to represent them as the party nominee for the Assembly. And as always, there's a long list of primary challengers hoping to push incumbents on policy and get them out of office. Their success will depend on a handful of electoral factors. Name recognition and endorsements from local powerbrokers are two examples. Money is another, and campaign filings released at the end of May reveal more than just which candidates have the most money to spend. The disclosures highlight whether candidates are banking their chances on a few key supporters or a larger political base. A willingness to take money from special interests like real estate is particularly controversial in a party that has moved increasingly to the political left in recent years.
Early voting is from June 18 to June 26, and you can see what redrawn districts look like on Redistricting & You from the CUNY Graduate Center. 
State Senate and congressional primaries have been kicked back to August, so Assembly candidates will be the only legislators sharing the ballot with candidates for governor and lieutenant governor in June. Here's a look at some of the most interesting, and competitive, Democratic primaries featuring Assembly incumbents across the state. This list has been updated as of June 21. 
Assembly Member Tom Abinanti
First elected: 2010
Current district: 92, Tarrytown and parts of Westchester County
New district: 92, largely the same
Reported cash on hand: $106,073
Challenger: MaryJane Shimsky
The six-term legislator Tom Abinanti has had his differences with colleagues and activists further to the political left on issues such as a COVID-19 relief fund for undocumented people. That could help MaryJane Shimsky, the current majority leader of the Westchester County Board of Legislators, in this campaign. Shimsky, who reported $49,200 on hand ahead of the primary, has said she planned to attack Abinanti on that issue as well as Good Cause Eviction and his past comments on vaccines. Her campaign got a boost from Westchester Democrats in February when they voted to support her primary challenge against Abinanti, who claimed it was all just political hijinks ahead of the June primary. Shimsky's also getting support from progressives, including the Working Families Party. Abinanti beat a primary challenger last year by a comfortable margin.
Assembly Member Jeffrion Aubry
First elected: 1992
Current district: 35, East Elmhurst and Corona in Queens
New district: 35, largely the same
Reported cash on hand (as of January): $124,444
Challenger: Hiram Monserrate
Hiram Monserrate was kicked out of the state Senate more than a decade ago after a domestic violence arrest, and later served prison time on corruption charges arising from his City Council campaign. He may have been forgiven by mainstream Democrats by now if he didn't keep challenging incumbents. He lost to Jeffrion Aubry 65%-35% in 2020 and is seeking political redemption again this year – for the sixth time. But Monserrate isn't a joke – he's won district leader races, and the majority Hispanic district's demographics favor him. He's hoping to paint Aubry as the picture of Albany dysfunction. Aubry has run a quiet campaign, and, in violation of campaign finance laws, hasn't posted a campaign finance report since January. And even then, he didn't report raising a single dime after the first days of November. Monserrate didn't file his required disclosure either – but reported $44,314 in the bank in January. 
Assembly Member Michael Benedetto
First elected: 2004
Current district: 82, Pelham Bay and parts of the East Bronx
New district: 82, largely the same
Reported cash on hand: $868
Challenger: Jonathan Soto, Algernon Quattlebaum
The changing demographics of the Bronx could help a challenger oust the longtime Education Committee Chair Michael Benedetto. Jonathan Soto, a former campaign aide to Rep. Alexandria Ocasio-Cortez who has previously eyed the seat, is reportedly following the AOC playbook for beating an establishment guy this time around. He's reported spending $62,192 since January, and has gotten at least $13,645 of outside spending from the Wall Street funded Moving NY Forward super PAC – even as he's disavowed the support. Benedetto is nervous, having dropped $132,865 since January while touting support from unions including 1199 SEIU. Also in the race is Algernon Quattlebaum, a veteran and former restaurateur who's running on a conservative platform criticizing the "disastrous bail reform law." He reported having just $2,730 at the January 2022 filing. 
Assembly Member Kevin Cahill
First elected: 1992
Current district: 103, Kingston and New Paltz and parts of the Hudson Valley
New district: 103, largely the same
Reported cash on hand: $28,918
Challenger: Sarahana Shrestha
Kevin Cahill, the longtime chair of the Assembly Insurance Committee, is the first legislative incumbent outside New York City in recent years to face a challenge backed by the Democratic Socialists of America. The Hudson Valley chapter announced their official endorsement of Sarahana Shrestha, a first-generation Nepali American activist whose website touts support for lefty causes like the New York Health Act, Good Cause Eviction and a Green New Deal. The WFP and Albany's socialist caucus have backed her as well. Shrestha has a healthy amount of money on hand, $61,110, ahead of the primary, but after a slow start, Cahill has been spending like crazy, dropping just over $100,000 in the weeks ahead of the primary. And the incumbent has kept on taking in big donations in the last days, including support from the state Democratic party. Cahill, who has sponsored stalled legislation that would implement a state-level tax on carbon emissions, has a record as a left-leaning lawmaker, but an indeterminate number of progressive constituents evidently feel he is too moderate for their tastes.
Assembly Member Vivian Cook
First elected: 1990
Current district: 32, parts of Jamaica and South Jamaica in Queens
New district: 32, largely the same
Reported cash on hand: $61,797
Challenger: Anthony Andrews Jr. 
Anthony Andrews Jr., a York College administrator and professor, has spent more than $110,000 in the past year on this race, and still had nearly $71,000 in the bank in the final weeks, thanks in part to support from the WFP as well as a charter school advocacy group. The 85-year-old Cook, by contrast, has been raking in donations from moneyed interests like real estate, insurance and lobbying firms – but has barely reported spending a dime. Her filings show just $1,054 spent in the past year. Andrews isn't your typical progressive challenger – he's a district leader who used to be a close ally to Cook, and has infuriated party insiders who previously donated to him by not waiting his turn. He's also raised eyebrows by touting support of former lawmakers who were incarcerated on corruption charges, like Hiram Monserrate and Shirley Huntley. 
Assembly Member Inez Dickens
First elected: 2016
District: 70, parts of Harlem in Manhattan
New district: 70, largely the same
Reported cash on hand: $120,717
Challengers: Delsenia Glover, Shawanna Vaughn
Inez Dickens, who served in the City Council then the Assembly for more than 15 years, is from a Harlem dynasty. Her father and uncle both held the Assembly seat before her. So two outsiders are challenging the establishment pol from the left. Delsenia Glover, a longtime housing activist who recently worked in New York City Public Advocate Jumaane Williams' office, has support from progressive groups including the Working Families Party and New York Communities for Change. She's spent more than $46,000 so far, and still has $18,324 ahead of election day. Shawanna Vaughn, who started a nonprofit to serve formerly incarcerated people like herself, is also running, but hasn't filed any campaign finance reports. Dickens is worried about losing and working hard to rally support. She's reported spending nearly $60,000 on her reelection and still had a whopping $121,000 on hand ahead of the election, thanks in part to support from labor unions, Assembly Speaker Carl Heastie and last minute donations from the likes of real estate developer Jeff Gural. Dickens is also getting support from New York City Mayor Eric Adams, who has been endorsing a number of candidates facing WFP-backed opponents. 
Assembly Member Erik Dilan
First elected: 2014
Current district: 54, parts of Bushwick and Cypress Hills in Brooklyn
New district: 54, largely the same
Reported cash on hand: $185,999
Challenger: Samy Nemir Olivares
The Working Families Party is teaming up with the Democratic Socialists of America to help District Leader Samy Nemir Olivares unseat Erik Dilan from the left. Dilan's father, Martin Malavé Dilan, was unseated from the state Senate in 2018 by DSA-backed state Sen. Julia Salazar in an overlapping district, and DSA has only grown stronger since – but the younger Dilan won't be underestimating the challenge, either. He served in the City Council for 12 years before winning the Assembly seat and is sitting on huge amounts of money, with recent donations from the state Democratic Party, 1199 SEIU and Rep. Hakeem Jeffries.  Nemir Olivares has been bringing in money too, though, and has $71,943 on hand heading into the primary, thanks in part to support from Rep. Nydia Velázquez and CWA District 1.
Assembly Member Jeffrey Dinowitz
First elected: 1994
Current district: 81, Riverdale and other parts of the northwest Bronx
New district: 81, largely the same
Reported cash on hand: $252,429
Challenger: Jessica Altagracia Woolford 
Jeffrey Dinowitz easily defeated George Diaz, a former City Council aide, 63% to 36% in a two-way race in 2020. Diaz failed to make the ballot this time, but the incumbent is getting an energetic challenge from Jessica Altagarcia Woolford, a former press secretary to U.S. Sen. Kirsten Gillibrand. With the Working Families Party and Rep. Alexandria Ocasio-Cortez backing her, Woolford is hoping to run a progressive campaign based on generational change similar to the ones that led state Sen. Alessandra Biaggi and Rep. Jamaal Bowman to victory in the district. Her fundraising has been strong, with $52,882 on hand heading into the primary, but it's just a fraction of the money the well-funded Dinowitz has. Woolford is Latino and will also be hoping to capitalize on the district's increasing Hispanic population.
Assembly Member Phara Souffrant Forrest
First elected: 2020
Current district: 57, Fort Greene, and parts of northern Brooklyn
New district: 57, largely the same
Reported cash on hand: $38,881
Challenger: Olanike Alabi
Phara Souffrant Forrest is facing a primary challenge of her own two years after ousting an incumbent Democrat Walter Mosley in the primary. Former District Leader Olanike Alabi is running on a generally progressive platform, but her political style is certainly different from the Democratic Socialists of America-supported incumbent. One recent Jim Owles Liberal Democratic Club questionnaire, for example, shows that Alabi has never been arrested "in pursuit of legislation or for protesting an injustice." The same could not be said about Forrest, whose lefty style has aroused controversy in office, but also earned the former nurse diehard supporters. Alabi has more money on hand, $41,218, heading into the primary, thanks in part to support from District Council 37, state Sen. Tim Kennedy and others. 
Assembly Member Deborah Glick
First elected: 1990
Current district: 66, Greenwich Village and Tribeca in downtown Manhattan
New district: 66, largely the same
Reported cash on hand: $93,982
Challenger: Ryder Kessler
The Working Families Party certainly messed with Deborah Glick's political future in 2018 by running Cynthia Nixon against her as a way to get the actor's name off the ballot for governor. Four years later, the WFP is backing tech entrepreneur Ryder Kessler against Glick, the first openly gay person ever elected to the state Legislature. The challenger, who is also gay, says the incumbent is stuck in the past on issues like sex work decriminalization. He has also criticized the chair of the Higher Education Committee's comments on population control as a response to climate change. Glick has legislative accomplishments, a wide network of supporters and decades of elective experience to help get her through another campaign. And this is a big money race. Glick has spent $141,000 and still has nearly $100,000 on hand, thanks to donations from the state Democratic party, 1199 SEIU, the Hotel Trades Council and more. And after contributing at least $70,000 of his own to the campaign, Kessler has spent more than $123,000 and still has about $119,000 heading into the primary. 
Assembly Member Mathylde Frontus
First elected: 2018
Current district: 46, Coney Island and parts of Bay Ridge in Brooklyn
New district: 46, largely the same
Reported cash on hand: $25,614
Challenger: Dionne Brown-Jordan
Mathylde Frontus, a social service nonprofit leader, was elected by a razor-thin margin in 2018 – but the wounds from that race never healed, and she has been in a behind-the-scenes battle with former City Council Member Mark Treyger and other Brooklyn Democratic Party insiders ever since. That's resulted in some unflattering stories about high turnover in her office and more. Frontus' challenger, Dionne Brown-Jordan, is a district leader and a party favorite, but has gotten criticized – and heat from the district attorney – for apparently signing up unwilling Brooklynites for county committee, including dead people. A month out, Brown-Jordan had about as much money to spend as Frontus, reporting $24,870 on hand.
Assembly Member Eddie Gibbs
First elected: 2022
District: 68, East Harlem in Manhattan
New district: 68, largely the same
Reported cash on hand: $62,925
Challengers: Wilfredo López, Tamika Mapp, John Ruiz Miranda
Eddie Gibbs, a longtime political operative, was just elected in a January special election to replace now-Secretary of State Robert Rodriguez, becoming the first formerly incarcerated state legislator. Gibbs has the support of New York City Mayor Eric Adams and money flowing in from the state Democratic party and labor unions. But he's facing a progressive challenge from Wilfredo López, a former staffer to City Council Member Ben Kallos, who has support from the Working Families Party. López, who is Puerto Rican, may also benefit from the demographics in the traditionally Latino seat, over Gibbs, who is Black. López has reported just ​​$4,723 left on hand, but has benefitted from at least $53,480 in spending from a Wall Street-backed super PAC, Moving NY Forward. Also running is insurance broker Tamika Mapp, who has reported $6,834 on hand and John Ruiz Miranda, a theater producer and district leader, who has $42,968 in the bank ahead of the primary – though $40,000 of that is personal loans from his wife and him.  
Assembly Member Nikki Lucas
First elected: 2022
Current district: 60, East New York and Starrett City in Brooklyn
New district: 60, largely the same
Reported cash on hand: $52,068
Challenger: Keron Alleyne
Nikki Lucas, a former district leader, easily defeated Brooklyn Community Board 5 Deputy District Manager Keron Alleyne in the February special election to replace now-City Council Member Charles Barron. But Alleyne is Charles and Inez Barron's protege, and he also has support from the Democratic Socialists of America  and Working Families Party. Alleyne has $39,767 on hand ahead of the primary rematch, after raising mostly from grassroots donors. So Lucas isn't treating the Black radical Barrons as outliers in a normally moderate Democratic district and is gathering support out of fear Alleyne could win in June. Lucas has got New York City Mayor Eric Adams on her side and has been bringing in late money from the likes of 1199 SEIU, the Hotel Trades Council and Rep. Hakeem Jeffries. 
Assembly Member José Rivera
First elected: 2000, after a previous stint in the Assembly
Current district: 78, Belmont and parts of the western Bronx
New district: 78, largely the same
Reported cash on hand: $70,788
Challengers: George Alvarez, Emmanuel Martinez
José Rivera, the longtime veteran of Bronx politics, won his last primary in a landslide. He might have thought he would avoid a tough race this year, too, when progressive Shanequa Charles failed to make the ballot. But Emmanuel "Manny" Martinez, chair of Bronx Community Board 7, is putting up a spirited fight – with a lot of outside help. Moving NY Forward, a super PAC funded by a Wall Street trader, has spent more than $400,000 supporting his campaign and getting Martinez's name out. And Rivera may not be able to count on the establishment to save him this time considering all that trouble he's gotten into with Assembly leadership. Don't count out George Alvarez either. The perennial candidate who came in third place in the 2020 primary for a neighboring Assembly district, is also running with the support of Reps. Ritchie Torres and Adriano Espaillat, who both know how to win in the district. Alvarez reported having $18,351 in the bank in May, after spending $25,362 since January. Martinez hasn't filed since January, when he reported having nearly $37,000 – most of that his own money. And who knows what shape Rivera's campaign is in – he hasn't reported raising a single dollar since October 2020.
Assembly Member Angelo Santabarbara
First elected: 2012
Current district: 111, Montgomery County and parts of Schenectady and Albany counties
New district: 111, Schenectady and parts of Montgomery and Schenectady counties
Reported cash on hand: $71,711
Challenger: Justin Chaires
Angelo Santabarbara has cultivated a reputation as a political moderate on issues like bail reform, and redistricting removed some conservative areas of the district while adding more of the deep-blue city of Schenectady. That could help left-wing challenger Justin Chaires, a teacher and football coach who was initially running against Democratic Rep. Paul Tonko. The WFP backed Chaires against Santabarbara, but he's struggled with fundraising, spending just $23,000 since March and reporting $9,016 on hand going into the primary. Santabarbara has spent nearly $57,000 in that time and has more on hand, thanks to support from the realtors' PAC, 1199 SEIU, and supermarket magnate Neil Golub, among others. Oddly enough, Santabarbara is also running in the Conservative Party primary at the same time, against Republican Joseph Mastroianni. While Santabarbara is a Democrat, he also earned that line for the 2020 general election, where he got more than 4,600 votes, out of his 32,917 total.
With reporting by Zach Williams
This article has been corrected to reflect the results of the 2020 primary in Assembly District 37.
Powered By
NEXT STORY: Carl Paladino isn't the first fringe Republican endorsed by Elise Stefanik