New York City
Eric Adams got some stuff done
Ten things the NYC mayor got done in his first year – and some of the items he hasn't followed through on yet.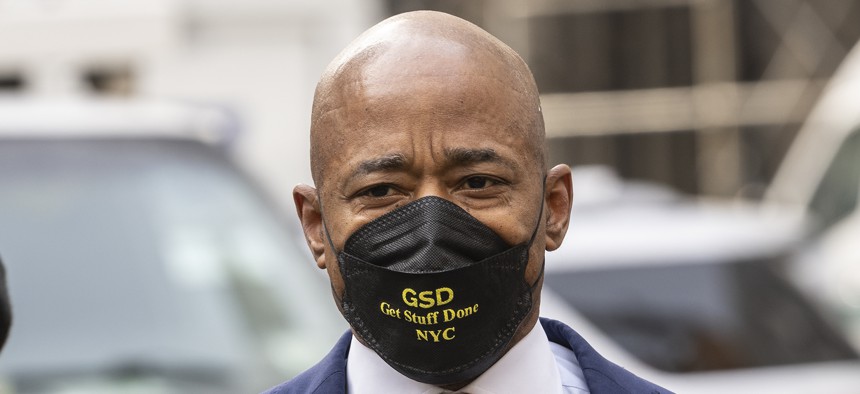 One year into the job, New York City Mayor Eric Adams has made clear that he is unlike his predecessor in many ways. That includes how he views the scope of his to-do list. 
"When people try to say, 'OK, Eric, you know, what is your one or two things?' I'm saying,  'To fix this mess!'" Adams told the New York Post in June, referring to questions about what his legacy-defining accomplishment would be. Unlike former Mayor Bill de Blasio, Adams has not so subtly suggested, New York's current mayor won't be hanging his hat on a singular achievement like universal pre-Kindergarten.
After all, Adams is the self-proclaimed "Get Stuff Done" mayor, and the list of stuff that needs doing is a long one. While Adams laid out a long list of priorities during the mayoral campaign, his early days in office left some political observers– and everyday New Yorkers –  thinking that he didn't have much to show for them. Adams' first year has also required managing unexpected crises, like tens of thousands of migrants coming to the city from the southern border, many without housing or jobs. 
In his first year, Adams has unveiled high-level blueprints to tackle expansive issues – the Blueprint to End Gun Violence, A Blueprint for New York City's Economic Recovery, and A Blueprint for Housing and Homelessness, just to name a few. (City Hall also maintains a list of those initiatives here.) 
While some of those broad initiatives will take longer than one year to implement, there are some concrete actions that the administration can point to when asked what they've been working on in the first year. That includes action that has been met with vocal criticism, like deploying a reimagined version of the NYPD's anti-crime units, and action that has produced mixed results, such as homeless encampment sweeps. It also includes initiatives that launched to more widespread praise, like borough-wide composting pickups in Queens. On the other side of that coin, those who can remember Adams' campaign promises don't have to look too hard to find a number of yet-to-be fulfilled pledges and goals.
With every ambitious blueprint released and "GSD" joke cracked over the past 12 months, Adams has been begging New Yorkers to ask one question of him: What exactly has our "Get Stuff Done" mayor gotten done? City & State solicited feedback from several experts in different subject areas – as well as from the mayor's office – to take a stab at answering that question with a not quite exhaustive list. Here are 10 items that the Adams administration worked on in its first year, and five goals and campaign promises that the mayor has yet to fully follow through on. 
THE STUFF HE GOT DONE
Introduced revamped anti-gun units
If Adams has had a primary focus in his first year in City Hall, it's public safety. He made it clear in his law and order focused mayoral campaign that he planned to bring back the controversial and previously disbanded plainclothes NYPD anti-crime units. But the administration has attempted to distinguish the renamed "Neighborhood Safety Teams" from the old units since they launched in March. Named as a key part of the mayor's Blueprint to End Gun Violence, the Neighborhood Safety Teams operate in 32 precincts and four additional police service areas around public housing complexes – about 40% of the total. The officers receive "enhanced training" and are not supposed to dress as civilians, as previous incarnations of the anti-crime units did, but wear clothing indicating they are police. City Hall attributed the removal of nearly 6,900 illegal guns from the street and 4,441 gun arrests as of mid-December to the work of the Neighborhood Safety Teams and other NYPD teams. In 2021, the NYPD made roughly 6,200 gun seizures and 4,497 gun arrests. Murders and shootings are down this year from 2021, but other major felonies including rape, robberies and assault are up.
Expanded police presence in the subway
The early months of Adams' first year were marked by a string of violent crimes in subway stations, including a mass shooting inside a subway car in April that left dozens injured. Just a few days into the job, Adams appeared with Gov. Kathy Hochul to announce a surge in cops in order to conduct "hundreds" more inspections daily on platforms and on the trains. According to a recent report by the City Council's Committee on Public Safety, major felonies in the subway system are up in 2022 over 2021. But compared to before the COVID-19 pandemic, overall crime in the system was down through October of this year over 2019. And despite having more officers on patrol, arrests in the subway in 2022 were also down over 2019.
Adams and Hochul have continued to collaborate on public safety in the subway, with the two appearing together in October to announce another police surge, with the state helping to fund 1,200 additional overtime shifts every day and deploying MTA police to commuter hubs like Grand Central Terminal, freeing up more NYPD officers to patrol subway stations. 
Directed homeless sweeps
The administration's Subway Safety Plan, announced in February, targets homelessness on the subway and attempts to reach individuals with mental illness. In addition to increasing police patrols, the city has deployed new outreach teams that aim to connect people to shelter and other resources like mental health services. So far, results have been mixed. The Daily News reported recently that more than two-thirds of people who were connected to shelter through August in those subway sweeps stayed less than a week. Still, Adams has characterized the one-third who stayed longer as a sign of progress. 
Among those experiencing symptoms of mental illness, police have removed 1,300 people from the subway, many against their will. As Gotham Gazette reported last week, city agencies wouldn't provide information about how many have entered treatment or are back riding the trains. 
But the homeless initiative that got more attention this year was the administration's sweeps of homeless encampments on city streets – a move that business groups have praised but which elicited fierce pushback from advocates and people experiencing homelessness who didn't want to go to shelters. As of late November, Gothamist reported, about 5% of the 2,098 people who were forced to move in sweeps between March and October agreed to enter the shelter system. According to the Coalition for the Homeless, the number of people sleeping in the city's main shelter system hit a record high in October.
Launched boroughwide composting pickup in Queens
While the jury is still out on just how much the rats are going to hate new trash pickup schedules and other mitigation measures in the administration's Get Stuff Clean agenda, the administration has already launched a borough-wide curbside composting pickup program in Queens. The Department of Sanitation already ran an opt-in program in some parts of the city that was set to expand until Adams halted funding for that expansion in the city budget, describing the program as inefficient. Participation in the new Queens program isn't mandatory, but weekly collection of organic waste is guaranteed and automatic for borough residents who put out their compost – a first step towards Adams' campaign promise to introduce citywide composting.
Secured 24/7 speed cameras
Despite being a longtime no-brainer for street safety advocates, New York City's speed cameras didn't operate 24/7 until earlier this year, following a change in state law, which previously only authorized the city to operate its network of 2,000 automated speed cameras from 6 a.m. to 10 p.m on weekdays. While the authorization came from the state, some transit advocates and other observers credited Adams and the city Department of Transportation with advocating for the change. City Hall also noted that it has exceeded a goal of completing safety improvements at 1,000 intersections this year, with safety upgrades at more than 1,200 intersections completed so far. As of Dec. 15, the city recorded 10 fewer pedestrian fatalities than last year, at 109 fatalities in 2022 so far, according to a City Hall spokesperson.
Took in asylum-seekers
During his mayoral campaign, Adams probably didn't foresee an influx of asylum-seeking refugees from the southern border – many of them bused to largely Democratic cities by border politicians like El Paso Mayor Oscar Leeser and Texas Gov. Greg Abbott. But the intake and sheltering of migrants became one of Adams' greatest challenges during his first year. The administration's response to the crisis received criticism from advocates and other lawmakers, including over a scramble to provide beds for new arrivals in compliance with the city's right to shelter, for initially planning a tent city to shelter migrants in an area prone to flooding, and then for erecting a different tent city on Randall's Island that was soon closed. While the challenge is ongoing and will likely grow, City Hall said that more than 31,000 asylum-seekers have come to New York this year, and the city has placed many of them in emergency hotel shelters and enrolled thousands of children in Department of Education schools.
Championed rezonings for housing
Adams has promoted a YIMBY approach to creating housing as the city faces a dire need of affordable units, and while the administration's housing and building agendas include many longer-term goals, some housing experts and other observers pointed to rezonings that include affordable housing as a win for the administration. While approval for projects like Innovation QNS and Bruckner Boulevard rested with the City Council, the Adams administration was also a vocal supporter of those and other projects, and had a seat in the negotiations. Altogether City Hall cited the approval of roughly 12,000 new homes – including roughly 7,500 income-restricted ones – thorough packages of zoning changes.
Expanded youth employment and career building opportunities
The Adams administration baselined funding for the city's Summer Youth Employment Program and Fair Futures in the city budget, with the former offering 90,000 summer jobs to young New Yorkers – up from a previous high of 75,000 – and the latter providing mentoring and tutoring to kids in the foster care system. Both programs are part of the administration's Blueprint to End Gun Violence. The city also expanded its Summer Rising program to offer all-day academic and other programming to 110,000 kids.
Universal dyslexia screening
This spring, Adams announced a fresh approach at tackling the city's literacy crisis, drawing from his own experience with undiagnosed dyslexia. The administration announced a "universal dyslexia screening program," which will screen all public school students for dyslexia, and provide some schools additional resources to address the needs of students with dyslexia. A City Hall spokesperson said that screenings have already begun, and new dyslexia programs at two schools in Harlem and the South Bronx have opened, but they did not elaborate on how widespread screenings or available resources to address dyslexia are so far. The mayor also plans to test everyone going through the city's jails for dyslexia, but he said this month that the program had not yet begun. 
Expanding internet access at NYCHA buildings
New York City is subsidizing free high-speed internet and basic cable in New York City Housing Authority buildings. Residents at more than 100 public housing buildings are already eligible to enroll, and the city aims to expand to 200 buildings by the end of next year. If targeting high-speed internet access to public housing buildings sounds familiar, that's because it was part of de Blasio's Internet Master Plan, which envisioned tackling the digital divide by building new publicly owned infrastructure and enlisting a diverse range of service providers. Big Apple Connect is so far offering residents service through major cable players Altice and Charter. The Adams administration has gotten pushback from some lawmakers and service providers for pursuing Big Apple Connect while scrapping the Internet Master Plan.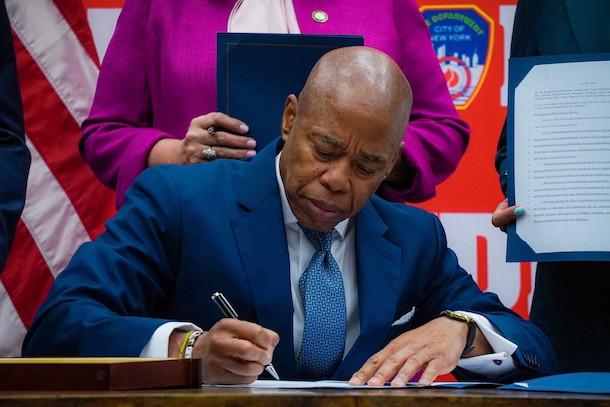 THE STUFF HE DIDN'T GET DONE (YET)
Bail reform
The state's 2019 bail reforms have produced no shortage of critics, but few proponents of toughening up the state's bail laws have as big a stage as Adams. The mayor's gun violence blueprint called for allowing judges to consider a defendant's "dangerousness" when deciding on bail or potential release, but he has yet to convince state lawmakers. Despite the fact that some bail changes were made by Hochul and the state legislature this year – making more crimes eligible for bail and allowing judges to consider additional factors when setting bail or release – Adams has continued to call for additional "tools" that judges can use to prevent alleged criminals from posing a threat if released, including the dangerousness standard.
MyCity
Adams has long touted technology's ability to tackle government inefficiencies and improve New Yorkers' experience of interacting with government agencies, but one of his major proposals related to that vision has still yet to launch. Adams' Office of Technology and Innovation – a large-scale reorganization of the city's IT and tech offices – has yet to release the initial version of its MyCity portal as of this writing. Adams pitched MyCity during the campaign as a one-stop shopping portal for New Yorkers to access all kinds of city services and benefits. And while work on an early version of that portal focusing just on a unified application process for all subsidized child care programs is underway, it hasn't yet launched despite OTI projecting a late 2022 release for the portal. There's just a little time left in the year to make that deadline.
Allocating $4 billion to the capital housing budget
Political candidates make all kinds of promises during a campaign that aren't followed through on, and for Adams, that includes falling short on a housing-related pledge he and others committed to last year. A coalition of housing advocacy groups called United for Housing asked candidates to commit to a $4 billion annual capital housing budget. Though Adams signed on at the time and though he boosted the city's capital housing budget by $5 billion over the next ten years, it averages to about $2.2 billion annually, still falling short of the pledge. During budget negotiations this year, some City Council leaders made noise about holding the administration to that $4 billion annual pledge, but it never materialized.
1% for Parks
In another example of why pledges made in the heat of a campaign should always be taken with a grain of salt, the Adams administration fell short on a commitment to allocate 1% of the city's total budget to the Department of Parks and Recreation. That pledge, asked of candidates by New Yorkers for Parks, would equate to spending roughly $1 billion on parks annually, but the final budget this year devoted roughly $624 million to parks – still a record high.
Building new bus lanes
The Department of Transportation has made some progress on building new bus lanes this year, but the city appears to be behind schedule on the mayor's commitment to build 150 miles of new bus lanes over the next four years. Streetsblog NYC recently reported that the city is not on track to hit that ambitious goal. A version of that goal is also reflected in 2019's Streets Master Plan, a law requiring the creation of 150 miles of protected bus lanes over five years, including at least 20 miles this year and 30 miles annually over the next four years. While the DOT has said that it intends to meet the 2023 goal, Streetsblog NYC reported last week that the DOT has built only 7.7 miles of new bus lanes since January, made 4.2 additional miles camera-enforced, and has 7.3 miles under construction. Even if those lanes under construction are somehow finished by the end of the year, that would put the city's total at 19.2 miles this year, just shy of the Streets Plan benchmark.