2023 elections
Election Day primer: What to know about New York's top races
From the New York City Council to key county executive races across the state, catch up on what you need to know before voting.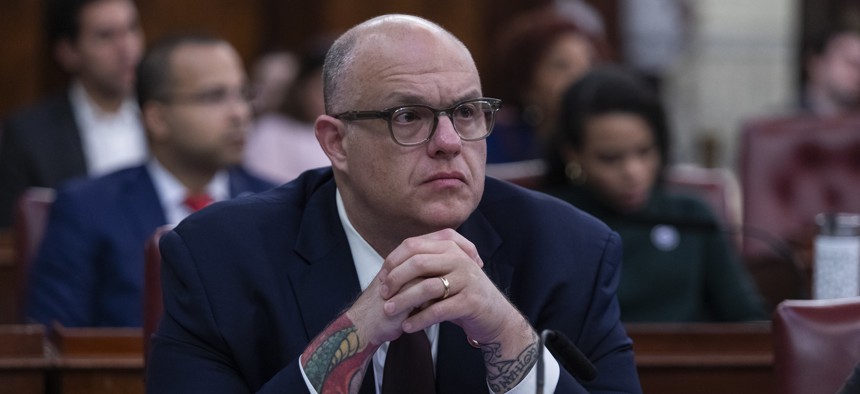 A half-dozen competitive New York City Council races that City & State has been tracking through the general election season will be decided today. The marquee matchup is in southern Brooklyn where incumbents Justin Brannan and Ari Kagan – who switched to the Republican Party last December – finally face off. And the race became more complicated when Rodneyse Bichotte Hermelyn, the head of the Brooklyn Democratic Party, resurfaced old oppo in a blistering statement against Brannan.
Another competitive matchup in Southern Brooklyn is between Susan Zhuang, who is being backed by her boss Assembly Member William Colton, and Republican Ying Tan, who received an unlikely political donation from Zhuang's primary opponent Wai Yee Chan, and Conservative Party candidate Vito LaBella. In the Bronx, Democratic incumbent Marjorie Velázquez is trying to hold off a challenge from Kristy Marmorato, an X-ray technician who has been endorsed by several prominent individuals with close ties to former President Donald Trump. It's unclear to what degree incumbent Republican Inna Vernikov's arrest and firearm possession charge will play into her reelection race against Amber Adler, who is being investigated by the Campaign Finance Board, in Southern Brooklyn's District 48. There are also two rematches in Queens that have some interesting dynamics: Republican City Council Member Vickie Paladino versus Democrat Tony Avella in District 19 and Democratic City Council Member Sandra Ung is being challenged by Republican Yu-Ching James Pai in District 20.
In Long Island, the Suffolk County executive seat is open for the first time in 12 years, offering Republicans a chance to capture one of the last major positions of power held by Democrats on the island if Ed Romaine beats Democrat Dave Calone. Democratic Erie County Executive Mark Poloncarz has held on to the position through three elections and was expected to breeze to victory a fourth time, but a series of controversies have helped boost his Republican opponent, Chrissy Casilio. All New York voters will have a chance to weigh in on two different ballot proposals that would allow municipalities to have greater control of their debt going forward.
Turnout is expected to be very low given that it's an off-year election, and there are no citywide, statewide or federal races on the ballot to drum up participation. Still, Tuesday's results will likely help shed some light on some of the big questions circulating in the political world like whether Republicans will be able to build on their recent momentum in the New York City Council and if Asian American voters are shifting to the right.