Campaigns & Elections
New Yorkers go to the polls today. Here's what you need to know
Voters will choose a governor, a state Legislature and a 26-member delegation that could tip the balance in Congress.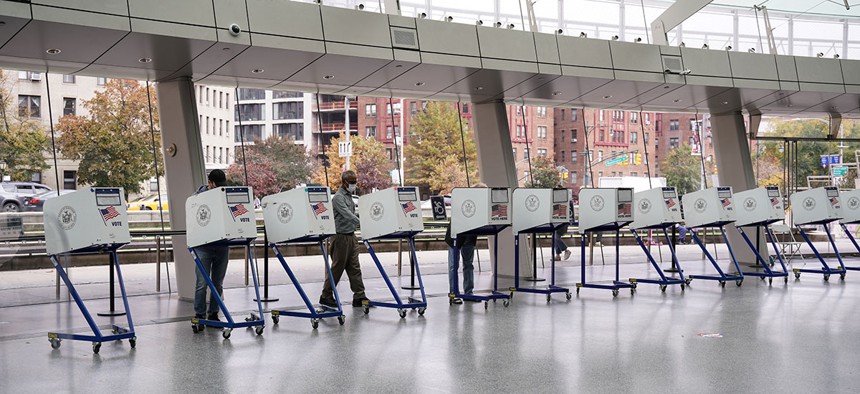 It's Election Day in New York. Polls are open from 6 a.m. to 9 p.m., and Empire State voters will decide multiple races with national implications. 
Governor's race
GOP Rep. Lee Zeldin, a Long Island politician who has a history of successfully taking political risks, is giving Gov. Kathy Hochul a run for her money in the first race to lead the state since former Gov. Andrew Cuomo resigned. 
Both candidates have spent tens of millions on the race, and Zeldin has gotten some additional help from major Super PAC donors. Zeldin has hammered Hochul on rising crime rates, and an October shooting outside his home served to underscore his message – even if the way he depicts crime in New York isn't all that accurate. 
Here's a rundown on where both candidates stand on some major issues. Other statewide incumbents are also up for reelection. Democrats U.S. Sen. Chuck Schumer, state Attorney General Letitia James and Comptroller Tom DiNapoli are all up against less competitive Republican opposition.
Congress
Here's an overview of everyone who's running for Congress in New York, and here are some of the top races to watch. Spoiler, the Hudson Valley and Long Island are both in play. In the 18th Congressional District, Democratic Rep. Pat Ryan is trying to capitalize on reproductive rights to beat GOP Assembly Member Colin Schmitt. In the neighboring 19th Congressional District, Republican Marc Molinaro has a name recognition advantage, but it's by no means a done deal in the race against Democrat Josh Riley. In Central New York, the 22nd Congressional District is considered a toss-up. On Staten Island, Democrat Max Rose is battling to take back the seat from Republican Rep. Nicole Malliotakis – and redistricting isn't helping him.
State Legislature
Amid national attention on the governor's race and Congress, races for state Senate and Assembly seats (all two-year terms) have gotten less attention. Here's an overview of all the state Senate races to watch in New York. Once again, Long Island is a battleground.
Ballot proposals
Voters will decide on a $4.2 billion Environmental Bond Act to fund climate infrastructure projects. New York City voters will consider three racial equity proposals impacting how the city addresses inequities.